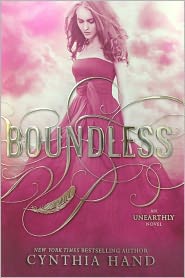 Boundless (Unearthly #3)
By: Cynthia Hand
Release date: January 22, 2013
Publisher: Harper Teen
My rating:

The Summary (via jacket copy):
The past few years held more surprises than part-angel Clara Gardner ever could have anticipated. Yet through the dizzying high of first love to the agonizing low of losing someone close to her, the one thing she could no longer deny was that she was never meant to have a normal life.
Since discovering the special role she plays among the other angel-bloods, Clara has been determined to protect Tucker Avery from the evil that follows her . . . even if it means breaking both their hearts. Leaving town seemed like the best option, so she's headed back to California—and so is Christian Prescott, the irresistible boy from the vision that started her on this journey in the first place.
As Clara makes her way in a world that is frighteningly new, she discovers that the fallen angel who attacked her is watching her every move. And he's not the only one. . . . With the battle against the Black Wings looming, Clara knows she must finally fulfill her destiny. But it won't come without sacrifices and betrayal.
In the riveting finale of the Unearthly series, Clara must choose her fate once and for all.
The Story:
It is always difficult to write a review for the end of a series because almost everything I could write is a spoiler. If you have read Unearthly and Hallowed then you must read Boundless, no question about it. All your questions will be answered, Cynthia Hand doesn't leave anything out there unanswered. As series endings go it was done very well. I didn't need to reread the previous books to get right back into the story and characters. The first third of the book was rather slow to me but when it picked up I couldn't put it  down, I couldn't turn the pages fast enough.
The Characters:
Over the course of the series I've become attached to some of the characters: Clara, Christian, Angela and Tucker. We get to see a lot of growth in this last installment and like reality a lot of times the things that make us develop as a person are really painful. A couple of my favorite characters weren't front and center for the majority of the book but honestly it didn't bother me because the story flowed well once we got past the first third. I didn't enjoy the time spent on college campus and was happy that aspect didn't last very long. I was happy to get to see more back-story on some of the full-bloods, one in particular (I'll not be specific). I wish that I had more of an attachment to Jeffrey but I just never could get myself to feel too invested in his story. I have to say that chapter 18 was my hands down favorite chapter of any of the three books.
Final Thoughts:
As I read Boundless I just kept thinking of William Shakespeare's words
My bounty is as boundless as the sea,
My love as deep; the more I give to thee,
The more I have, for both are infinite.
That just sort of sums it all up to me.
Curious about what happened in Italy over the summer before college? Radiant is that story, told in alternating first person between Clara and Angela. Available as an e-book from Amazon
 and Barnes and Noble
Boundless book trailer:

Buy this book:
Amazon

Barnes and Noble