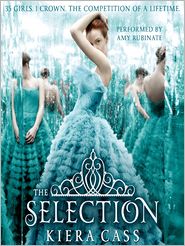 After the first attempt at having The Selection by Kiera Cass hit the small screen (only to have it fall through) the CW have ordered a second pilot. Originally, Aimee Teegarden was attached to play the lead role of America Singer but is no longer said to be working on the show. You can read more on EW's site here.

The Selection being described as cross between The Hunger Games and The Bachelor. I have never seen The Bachelor but its not like The Hunger Games in my opinion. The tone is completely different, whereas The Hunger Games is intense and stressful The Selection is a fast and fun read. I honestly think a TV show would be engaging and I hope it works out.
Summary (via Goodreads):
For thirty-five girls, the Selection is the chance of a lifetime. The opportunity to escape the life laid out for them since birth. To be swept up in a world of glittering gowns and priceless jewels. To live in a palace and compete for the heart of gorgeous Prince Maxon.
But for America Singer, being Selected is a nightmare. It means turning her back on her secret love with Aspen, who is a caste below her. Leaving her home to enter a fierce competition for a crown she doesn't want. Living in a palace that is constantly threatened by violent rebel attacks.
Then America meets Prince Maxon. Gradually, she starts to question all the plans she's made for herself–and realizes that the life she's always dreamed of may not compare to a future she never imagined
Look for book two The Elite due out April 23, 2013 by Harper Teen