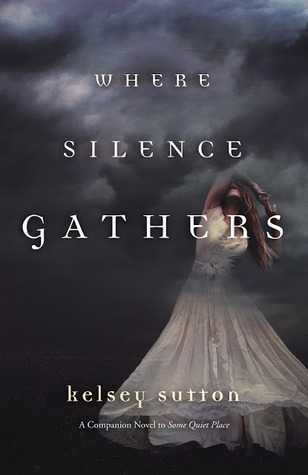 Where Silence Gathers
By: Kelsey Sutton
Release Date: July 8th 2014
Publisher: Flux
Format: Electronic ARC
Source: Publisher
I DNFed at 45%
Summary:
Seventeen-year-old Alexandra Tate sits outside Nate Foster's house, clutching a gun. After serving ten years for the drunk driving accident that killed Alex's family, Nate has been released from prison. Every night, Alex waits out of sight, building up the courage to exact her own justice. There's just one problem: Forgiveness.

Alex has been able to see personified Emotions for as long as she can remember, and Revenge is her best friend. But when Forgiveness suddenly appears, he offers Alex a choice—getting even or moving on. It's impossible to decide when Revenge whispers in one ear . . . and Forgiveness whispers in the other.
My Thoughts:
First, I need to say that I loved Sutton's first work and the companion to this book, Some Quiet Place (my review). When Where Silence Gathers came up on NetGalley I was very excited to be approved because of how much I loved the other book.
Let me first talk about the aspects I did enjoy- I think that the idea behind these books was very beautiful and reminds me of Neil Gaiman's The Sandman graphic novels. I adore the idea of feelings being seen in a human state. I absolutely adore that idea and am sold whenever anything similar comes around. I think that Sutton is a very strong writer and I enjoy her pacing and descriptions. She focused on smell a lot in both novels and I like having that added to the visual and tactile senses presented to me as the reader.
I believe the reason I've had such a difficult time getting immersed in this book is due to the characters, especially the main character. The story follows from Alexandra's point of view and I had such a difficult time really getting invested in her. Her character has suffered from extreme loss and was so deep into her own despair she was broken and completely absorbed. This leads to her treating others poorly and being blind to many things in front of her. I was capable of feeling empathetic towards her situation but I never felt the connection I'd like to have felt. I wanted to like her but never could.
There was a brief period around 30% where I thought I was going to start enjoying the story more but as the events proceeded Alex's dismissal of her living family members and friends had me irritated. The story itself had some interesting qualities and there was a bit of a mystery that I'm curious about but it wasn't enough to push me through the last half. Since I am a fan of Sutton's writing I can see myself picking this up and finishing the story hoping that I've not been in the correct mindset or mood.
Have you read Where Silence Gathers? If you have I'd love to hear your thoughts (feel free to leave me the link to your review!)