I'm so excited that I was able to attend the Fierce Reads tour stop at Blue Willow Bookshop. I got to see Leigh Bardugo and Jessica Brody again (saw them at Houston Teen Book Con a few weeks back) and meet Ann Aguirre and Gennifer Albin. I've not read the Crewel series yet but am excited to start it hopefully soon.
You can tell these ladies have been touring and have a great repertoire with one another. There were many laughs and a few tears and overall just a really great time had by all. I got so caught up in the panel that I actually didn't take a lot of pictures (oops) but I tried to jot down some of the questions and answers to share with you.
When asked about their favorite scary stories Ann Aguirre shared that she found the world we live in to be the most terrifying thing. She went on to explain the Jewel Wasp which I'll leave for you to read about. So creepy!
How do you celebrate after finishing a book?
Jessica said she cleans her house since it's a wreck after she's been ignoring it while writing. Ann said she takes a celebratory shower and Gennifer steps out into the sun and then buys a pie. Leigh tends to ignore people when in the writing bunker so she tries to socialize.
If you knew you were dying at midnight what would you do for the rest of the day?
Gennifer had a running joke about eating pie (and was really excited about trying Houston's House of Pies) so she wasted no time in saying, "eat pie!" Jessica said she would finish the second season of Scandal. And then there were questions about the details of this imminent death. Was it world wide? Just them? How long in advance did they know they were dying at midnight- Would they have time to fly home to see their families? Ann said she would either fly out or be on the phone with her family. After the seriousness of this answer Leigh said she'd pass on answering.
What superpower would they want?
Ann knew the answer to this immediately, teleportation. She had really thought out all the details and questions related to teleporting. Jessica said she would want an immunity to calories so she could eat all the sweets and gain no weight. Leigh talked about how she had read somewhere that those that picked flight were hero types and those that chose invisibility were villain types. She'd choose invisibility.
Everyone went on to explain that Leigh was house Slytherin so of course she'd be a villain. Then they announced which house they would belong to.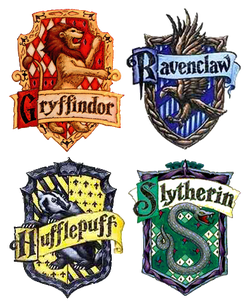 Ann- Hufflepuff, Jessica-Ravenclaw and Gennifer is Gryffindor. So of course I had to take the quiz myself

Which Hogwarts house will you be sorted into?
Many more questions were asked and answered it was one of the best panels I've seen.