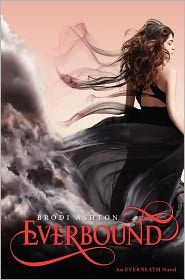 Everbound
By: Brodi Ashton
Release Date: January 22, 2013
Publisher: Balzer + Bray
Thank you Cynthia from A Blog About Nothing for my copy of Everbound!
Spoilers if you have not read Everneath
My Rating:

Summary (via book copy):
Two months ago, the Tunnels of the underworld came for Nikki Beckett. That night, Nikki's boyfriend, Jack, made the ultimate sacrifice. All Nikki wants is to save Jack before it's too late. All Cole wants is to find his queen–and he thinks Nikki is the one. Both determined, both desperate, Nikki and Cole form a tense alliance, leading them on a dangerous journey to the heart of the Everneath.
The Story:
The book starts right after Jack has taken Nikki's place in the Everneath and Nikki being drenched in guilt and sadness. Her one mission is to save Jack from the fate he took upon himself for her. The pacing is fast and the book is full of action and adventure. I was captivated entirely and though I had an inkling of where the story might go I was still surprised by how Ashton ended the book. OK, surprised is an understatement I was shocked. I honestly think that Everbound was a stronger novel than Everneath and Ashton is becoming an even better story teller which makes me so excited for book three. I usually like to jot down notes as I read but I was so busy reading I did not take down a single note. Throughout the entire book I felt the stress Nikki felt as her time ticked away and this pushed me to read faster than I intended. I loved getting more of a history on the Everneath and the Everliving.
The Characters:
Nikki is single minded and brave in a way she was not in the prior novel. She has grown a lot and has grasped her ability to change her own life and those of the ones she loves. Jack is not as present throughout but we get glimpses of him in flashbacks that Nikki has. These were delightful because they gave back story to Nikki and Jack's relationship but also helped to relieve the stress of the book. Cole seems to have grown as well and though you don't exactly know his motivations you feel for him and honestly begin to see aspects of his character you can't help but like.
Final Thoughts:
I found Everbound to be an incredibly fast read that left me wanting much more (like book three now!)
Everbound book trailer:

Buy this book:
Amazon

Barnes and Noble