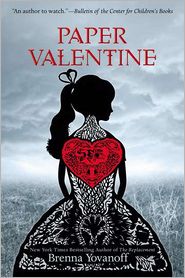 Paper Valentine
by: Brenna Yovanoff
Release Date: January 8, 2013
Publisher: Razorbill
My rating:

This review is spoiler free
Summary  (via jacket copy):
I am not the kind of person who gets haunted by anything
Hannah's best friend Lillian died six months ago, and Hannah just wants her life to go back to normal. But how can it when Lillian's ghost is haunting her bedroom, pushing her to investigate the mysterious string of murders linked only by a paper valentine? Hannah can hardly begin to understand why her friend self-destructed, and where she fits now that Lillian isn't there to save her a place among the social elite. And she must stop thinking about Finny Boone, the big, enigmatic delinquent whose main hobbies seem to include petty larceny and surprising acts of kindness.
With the entire city in a panic, Hannah soon finds herself drawn into a world of ghost girls and horrifying secrets. She realizes that only by confronting the Valentine Killer will she be able to move on with her life–and it's up to her to put together the pieces before he strikes again.
The Story:
Its hard for me to know exactly how I feel about Paper Valentine. The tone is sad and melancholy, yet I felt compelled to keep reading. It honestly had a similar feel as Lovely Bones by Alice Sebold to me…so deeply sad yet with a captivating pull that just won't let you put the book down for too long. The story moves at slow pace like syrup, but I wasn't bored while reading. Was the story interesting? Yes, it was but I could see where it was headed. Certain story-lines (like the birds) felt disjointed and unfinished. I'm left still wondering what that was about. Perhaps it was just the backdrop to our story but I wanted to know more. Yovanoff writes beautifully, her descriptions so detailed  you feel the oppressive heat of summer weighing the characters down.  I think the writing is the strongest aspect of this book
 The leaves are cool against my face and arms, and under the bushes the air smells sweet like fresh wet dirt and sugar. Mosquitos are everywhere, whining around me in a cloud, but at first I don't even wave them away.
I found myself just sucked into Yovanoff's words and descriptions.
The Characters:
I could relate to Hannah in many ways, she was a realistic depiction of a teenager and was flawed beautifully. I loved that a photo lab was included in the story because I worked at three in high school and college. The descriptions of the lab just took me back to the smells and sounds of the machines.  Her self discovery was a real driving force in the book and I enjoyed watching her grow. I loved the relationship between Hannah and Ariel, I have a sister and it felt very real to me. Lillian was heart-breaking. Such a realistic and sad depiction of "'Trevor" (not a boy but the name given to method of self-destruction in the book). Finny Boone was a complex character that didn't even need to speak for you to get an understanding of his motives. I was most disappointed by not learning more about the Valentine Killer.
Final Thoughts:
Paper Valentine is very well written and heart wrenching in its realistic depictions. I'm glad that I read it but I'm not sure its one that I will reread.
 Read Brenna Yovanoff's blog about how she was inspired to write Paper Valentine .
To buy this book:
Amazon

Barnes and Noble