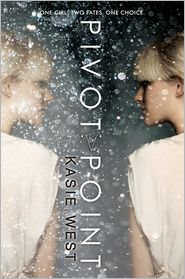 Pivot Point
By: Kasie West
Release Date: February 12, 2013
Publisher: HarperTeen
My Rating:

The Summary (via jacket copy):
Knowing the outcome doesn't always make a choice easier…
Addison Coleman's life is one big 'What if?" As a Searcher, whenever Addie is faced with a choice, she can look into the future and see both outcomes. It's the ultimate insurance plan against disaster. Or so she thought. When Addie's parents ambush her with the news of their divorce, she has to pick who she wants to live with–her father, who is leaving the paranormal compound to live among the "Norms," or her mother, who is staying in the life Addie has always kn0wn. Addie loves her life just as it is, so her answer should be easy. One search six weeks into the future proves it's not.
In one potential future, Addie is adjusting to life outside the Compound as the new girl in a Norm high school where she meets Trevor, a cute, sensitive artist who understands her. In the other path, Addie is being pursued by the hottest guy in school–but she never wanted to be a quarterback's girlfriend. When Addie' father is asked to consult on a murder in the Compound, she's unwittingly drawn into a dangerous game that threatens everything she holds dear. With love and loss in both lives, it all comes down to which reality she's willing to live through…wand who she can't live without.
The Story:
Pivot Point was a wonderful merge of the movie Sliding Doors and the TV show Heroes to me. I loved experiencing the dual realities and didn't find the flip flopping confusing. I think West did a good job keeping the reader straight on which was which. All the pieces fell nicely in place for the big climax and I was not let down by the outcome. Some of the characteristics of the 'villain' did feel familiar to me in a lot of aspects. I won't ruin how by revealing in which ways. The thing that really grabbed me about the story and book itself was how realistic it all felt though it dealt with mental superpowers. It seemed entirely possible that this was real and happening in our world today. The pacing moved fast and I was interested in what the outcome would be throughout.
The Characters:
I feel like some of the characters were a bit type cast (Bobby being creepy with greasy hair–why do creepy guys not bathe? And of course Duke being the football star). This did not detract from my enjoyment and I did enjoy going through the journey with our main character, Addie. I, of course, appreciated her love of reading and books. I enjoyed watching her get to know Trevor in the Norm world. He is a great character and love interest. He did remind me in some ways of the Unearthly series', Tucker. Maybe because they bother were cowboy types and so sweet.
Final Thoughts:
I am eagerly waiting for book 2 to see where Addie's future will take her.
Buy this book:
Amazon

Barnes and Noble