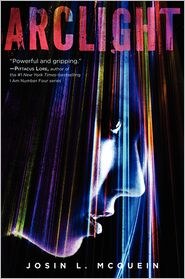 Arclight
By: Josin L. McQuein
Release Date: April 23, 2013
Publisher: Greenwillow Books
Source: Purchased
My Rating:

I read Arclight with my fellow blogger Scott Reads It check out Scott's review here. I can't tell you how long it's been since I read a book along with a friend. It was wonderful to be able to talk about what I just read.
The Summary (via Goodreads):
No one crosses the wall of light . . . except for one girl who doesn't remember who she is, where she came from, or how she survived. A harrowing, powerful debut thriller about finding yourself and protecting your future—no matter how short and uncertain it may be.
The Arclight is the last defense. The Fade can't get in. Outside the Arclight's border of high-powered beams is the Dark. And between the Light and the Dark is the Grey, a narrow, barren no-man's-land. That's where the rescue team finds Marina, a lone teenage girl with no memory of the horrors she faced or the family she lost. Marina is the only person who has ever survived an encounter with the Fade. She's the first hope humanity has had in generations, but she could also be the catalyst for their final destruction. Because the Fade will stop at nothing to get her back. Marina knows it. Tobin, who's determined to take his revenge on the Fade, knows it. Anne-Marie, who just wishes it were all over, knows it.
When one of the Fade infiltrates the Arclight and Marina recognizes it, she will begin to unlock secrets she didn't even know she had. Who will Marina become? Who can she never be again?
The Story:
Arclight has an original premise which kept me interested from start to finish. McQuein has created an intriguing concept with the Arclight, Grey and Dark and with the Fade. As I read I had a hard time really grasping the full scope of the world and its inhabitants. This might frustrate some readers but I honestly loved it. It kept me alert the entire time I was reading, looking for clues and piecing things together. In no part of the story did I want to stop learning about the world McQuein described. I wanted more; I need to know about the Fade: do they eat? sleep? I want to know every detail possible to help flesh out this vastly unique world.
The thing I loved so much about Arclight was the subtle creepiness. Nothing out right scary but the Fade and Dark are ominous. The lack of knowing all the details really let my imagination run and added to the atmosphere. Part of my enjoyment of this book was in the mystery of the world and bad guys. I want so badly for there to be a prequel that takes a character through the world's transition to Dark.
The Characters:
For the most part I enjoyed all the characters McQuein created and developed. Our main character, Marina was strong-willed and resilient. I enjoyed watching her discover answers to her questions and grow. The one character that was lacking most for me was Tobin. I never found myself really caring about what became of him though I didn't dislike him, he just fell to the wayside because I cared much more for Rue. Tobin was also rather belligerent in the beginning and his character's growth seemed sudden and a little disjointed.
Final Thoughts:
I really loved Arclight because of its mysterious Fade and ominous atmosphere mixed with some great sci-fi elements. I am beyond happy that there will be a sequel.
Extras:
Universal has picked up rights to Arclight. Read the article here.