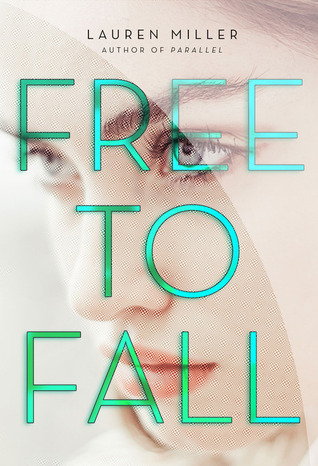 Free to Fall
By: Lauren Miller
Release Date: May 13th 2014
Publisher: HarperTeen
Source: Hardcover
A copy of this book was provided by the publisher in exchange for an honest review.
My Rating:

Summary:
What if there was an app that told you what song to listen to, what coffee to order, who to date, even what to do with your life—an app that could ensure your complete and utter happiness? What if you never had to fail or make a wrong choice?

What if you never had to fall?
Fast-forward to a time when Apple and Google have been replaced by Gnosis, a monolith corporation that has developed the most life-changing technology to ever hit the market: Lux, an app that flawlessly optimizes decision making for the best personal results. Just like everyone else, sixteen-year-old Rory Vaughn knows the key to a happy, healthy life is following what Lux recommends. When she's accepted to the elite boarding school Theden Academy, her future happiness seems all the more assured. But once on campus, something feels wrong beneath the polished surface of her prestigious dream school. Then she meets North, a handsome townie who doesn't use Lux, and begins to fall for him and his outsider way of life. Soon, Rory is going against Lux's recommendations, listening instead to the inner voice that everyone has been taught to ignore — a choice that leads her to uncover a truth neither she nor the world ever saw coming.
My Thoughts:
Free to Fall quickly grabbed my interest and kept it throughout the somewhat lengthy stand alone. My favorite aspect was that the future Miller created was completely realistic and I could see it happening. Honestly, I'll be surprised if elements she discussed aren't part of our very real future. I thought the concept of an app, named Lux, that makes decisions based on  your likes and dislikes was brilliant. I can't fathom this hasn't been either worked on or discussed by tech companies.
Not only does Miller create an exceptionally vivid and realistic future she also populated it with interesting, well rounded individuals. I loved reading from Aurora's (Rory) point of view. She was easy to relate to and I found that her actions were in line with how I might approach things (minus a thing or two). The mystery surrounding her mother was intriguing and kept me guessing though some of it was fairly easy to spot coming. I loved Rory's interactions with North. Really, he was pretty incredible  in general. He was what I look for in a male lead/love interest. He was loving, protective but not over bearing. I loved that there wasn't insta-love and that things progressed at a nice pace.
I couldn't get over Rory's roommate's name though, Hershey. Every time I read her name it made me hungry for chocolate and couldn't fathom someone naming their child that. Though I'm sure it's possible and has been done. As far as Hershey's character went she was one of my least favorites but I managed to enjoy her at times.
As I mentioned before the science fiction elements were well done. Miller utilized very realistic but not overly futuristic gadgets. Nothing seemed impossible and I thought that most of her creations would go over pretty well in our society. You can tell she did some research to make everything highly realistic. I loved that the questions this book presented really had me thinking and wondering how I would react. Would I allow an app to make my decisions for me? Trust me, I felt a tad weird relying on my phone after reading this book. I loved the overall message behind the book and found Miller's execution to be beautifully done.
Final Thoughts:
Miller created a tight story arc with interesting, well rounded characters set in a world that is completely plausible. I loved the boarding school feel as well as the mystery surrounding Rory's family.