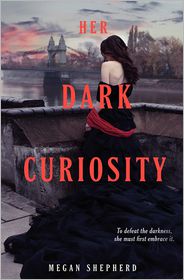 Her Dark Curiosity (The Madman's Daughter #2)
By: Megan Shepherd
Release Date: January 28th 2014
Publisher: Balzer+Bray
A copy was given to me in exchange for an honest review.
My Rating:

This review will contain spoilers from the first book, The Madman's Daughter, and a minor spoiler for this book.
Summary:
To defeat the darkness, she must first embrace it.
Months have passed since Juliet Moreau returned to civilization after escaping her father's island—and the secrets she left behind. Now, back in London once more, she is rebuilding the life she once knew and trying to forget Dr. Moreau's horrific legacy—though someone, or something, hasn't forgotten her.
As people close to Juliet fall victim one by one to a murderer who leaves a macabre calling card of three clawlike slashes, Juliet fears one of her father's creations may have also escaped the island. She is determined to find the killer before Scotland Yard does, though it means awakening sides of herself she had thought long banished, and facing loves from her past she never expected to see again.
As Juliet strives to stop a killer while searching for a serum to cure her own worsening illness, she finds herself once more in the midst of a world of scandal and danger. Her heart torn in two, past bubbling to the surface, life threatened by an obsessive killer—Juliet will be lucky to escape alive.
My Thoughts:
I had some issues with the first in this series, The Madman's Daughter. You can see my review here, but the quick of it was that I did not care for the love triangle or the animal violence though I enjoyed the writing style. I was optimistic to read this follow-up since it was based on Dr. Jekyll and Mr. Hyde.
Overall, I was disappointed in Her Dark Curiosity. I think that the story was very interesting and I enjoyed the pacing for the most part after the slow beginning. Shepherd is wonderful at gripping her readers and also creating a gothic aura. Her take on the classic was also interesting though I felt that it could have gone deeper and been more in the forefront of the story.
Spoilers ahead…
Instead, we were treated with a lot of 'romantic' scenes. Each scene felt awkward to me and not at all swoon-worthy. Somehow, beyond all logic, the love triangle continued and so much time was spent focused on Juliet pondering whom she loved. Everything surrounding the romance felt very convienant (especially the arrival of a character from the first book midway). I was so disappointed in the direction this aspect of the story went. Honestly, thinking back I don't know how much real time was spent on the love triangle but it felt like entirely too much because I think I can safely say, we all hoped there would be none. The last book pretty well took care of that, right? Nope, it's back.
One love scene in particular was so not romantic I couldn't stop rolling my eyes. One of the characters was drenched in blood and somehow this was supposed to be intriguing to us as readers. I felt sick more than anything. It felt like a way to make the story darker but really it just made me say ick.
End Spoiler
This book was accurately titled. Throughout the story Juliet struggles with her internal darkness and the truths she learned on the island. She can not make amends with herself and feels that the darkness is eating away at her. This internal battle isolates her. I found her character more interesting in this book than the first until she is paired with a man. Again, the romance did not work for me in any way.
There is no question to me that Shepherd is a talented writer and I love her ability to weave classic gothic into young adult books. I only wish the love aspect wasn't present and more time and energy was focused on the action, suspense and mystery, all aspects both books exceled in.