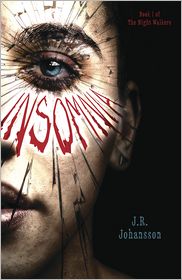 Insomnia (Night Walkers #1)
By: J.R. Johansson
Release Date: June 8, 2013
Publisher: Flux
My Rating:

An electronic copy of this book was provided in exchange for a honest review. Thank you Flux!
Summary (via Goodreads):
It's been four years since I slept, and I suspect it is killing me.
Instead of sleeping, Parker Chipp enters the dream of the last person he's had eye contact with. He spends his nights crushed by other people's fear and pain, by their disturbing secrets—and Parker can never have dreams of his own. The severe exhaustion is crippling him. If nothing changes, Parker could soon be facing psychosis and even death.
Then he meets Mia. Her dreams, calm and beautifully uncomplicated, allow him blissful rest that is utterly addictive. Parker starts going to bizarre lengths to catch Mia's eye every day. Everyone at school thinks he's gone over the edge, even his best friend. And when Mia is threatened by a true stalker, everyone thinks it's Parker.
Suffering blackouts, Parker begins to wonder if he is turning into someone dangerous. What if the monster stalking Mia is him after all.
The Story:
Insomnia has two story arcs working in tandem. The main arc focused on Parker and his gift (or curse), which will hopefully carry through the entire series. Why does he have this ability? And how did he come about having it? I was so intrigued with this aspect of Parker's story. Sadly, I wasn't given the answers I wanted, which left me eager for the next book.
The secondary, smaller arc focused on the mystery surrounding Mia's stalker which is fully concluded in the first book. Johansson created an incredible amount of suspense that had me questioning what was happening as much as Parker. But, by the time I got to the ending I was a little let down because, to me, it felt rushed and a bit forced. Granted, I didn't see it coming but it didn't feel right.
The Characters:
Parker is a complicated character and since Insomnia is told in first person we only know what he knows. This allowed me to be fully immersed in the mystery and questioning what Parker was responsible for. Johansson was able to transport the reader into the framework of his world. I felt sleep deprived, just as he did, as I read. I was very impressed that she was able to capture this feeling of insanity and barely holding on to what is real and what isn't.
It was hard to keep reading as the story progressed because of how far Parker takes his need to see Mia every night before he slept. It was creepy and uncomfortable to take that journey with him. I found myself liking him less and less and wondering if he was ever going to make it out of his downward spiral. I didn't feel like I saw that much character growth from him but I think this will be addressed in the next books.
Final Thoughts:
Overall, I felt this was an interesting concept done fairly well. Johansson almost lost me with how far she pushed Parker. Even with how uncomfortable it made me I was still intrigued with the physiological aspects of Parker's mental breakdown from sleep deprivation. I was less thrilled with how Mia's stalker mystery was wrapped up, because it felt forced and wasn't as creative as I hoped. Though there were a few flaws with this first in the series I will be checking out the next book.
Extras:
Read (and enter a giveaway) what J.R. Johansson has to say about scary books.
Insomnia Book Trailer: