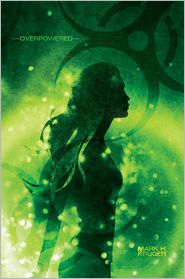 Overpowered
By: Mark H. Kruger
Release Date: August 27th 2013
Publisher: Simon & Schuster Books for Young Readers
Pre-Order:
Amazon

Barnes and Noble
An electronic copy was given to me in exchange for an honest review.
My Rating:

Summary (via Goodreads):
The world's safest town might actually be a deadly kind of dangerous. And Nica Ashley is about to learn the hard way.
Nica Ashley is accustomed to traveling the globe with her journalist mother, so when she gets sent to live in a small town with the father she barely knows, she's in for a bit of a culture shock. Barrington prides itself on being a sleepy, family community with the lowest crime rates in the state of Colorado. There's even a private security force run by Barrington Technology (BarTech) and a nightly curfew for all residents.
On Nica's first day at school, she meets Jackson Winters and finds out he went from school superstar to living ghost after his girlfriend disappeared a few months ago. When Nica follows him out after curfew one night, they both witness a mysterious green flash-and the next morning the power has gone out and all the birds are dead.
But secrets are well and alive, and as Nica and some of her friends discover they now have abilities best described as "super," they also realize that Barrington might not be so safe. And that BarTech is looking for them.
The Story:
Unfortunately, Overpowered didn't work for me overall. There was no issue regarding writing technique or even a decent story idea, but overall this one just fell flat to me. The story didn't present anything overly new in the young adult genre and it felt a bit done before: corporation hiding things from the general population, mysterious powers, and a girl attracted to the 'bad' boy. I think I would have enjoyed this more if I hadn't read so many young adult books.
My biggest struggle, beyond the story feeling familiar, was that a good amount of page time was spent on describing martial arts and other aspects of Nica's personality that I just wasn't able to relate to or garner an interest in. These sections dragged for me taking away from my over-all enjoyment of the book.
The Characters:
Nica has traveled all over the world with her adventurous mother. She's never been rooted to one place long enough to really make friends or become attached. This all changes when she is forced to move in with her father in a small, boring town in Colorado. I found it interesting to see Nica's character grow and to see the world through her eyes. I imagined while reading that the author had done some traveling since he was able to write about different parts of the world.
The secondary characters were likeable and the interactions between the characters was often time amusing.
Final Thoughts:
Overpowered had some interesting aspects but overall it wasn't a book I thoroughly enjoyed.