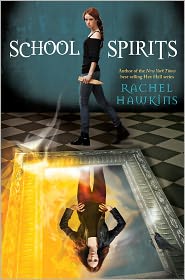 School Spirits
By: Rachel Hawkins
Release Date: May 14, 2013
Publisher: Disney-Hyperion
Source: Disney Book Group via NetGalley
My Rating:

Summary (via Goodreads):
Fifteen-year-old Izzy Brannick was trained to fight monsters. For centuries, her family has hunted magical creatures. But when Izzy's older sister vanishes without a trace while on a job, Izzy's mom decides they need to take a break.
Izzy and her mom move to a new town, but they soon discover it's not as normal as it appears. A series of hauntings has been plaguing the local high school, and Izzy is determined to prove her worth and investigate. But assuming the guise of an average teenager is easier said than done. For a tough girl who's always been on her own, it's strange to suddenly make friends and maybe even have a crush.
Can Izzy trust her new friends to help find the secret behind the hauntings before more people get hurt?
The Story:
I confess when I requested this title I did so on the high ratings I'd seen other reviews give it and the cover. I didn't know it was a spin-off and I'd never read a Rachel Hawkins book. I have no idea how I never read  (or heard of) the Hex Hall series but it's on my list now. With nothing to base School Spirits on I dove in blindly and really enjoyed the experience. The pacing was perfect and the characters were likeable. The story wasn't complicated and I must admit it wasn't overly original. Pretty standard story arc but the witty dialog made it stand out. One of the only negatives I had was that the ghost was sadly absent through most of the book. I never felt scared or even stressed. But sometimes, it's a nice change to read something light hearted.
The Characters:
I really grew to love the characters in School Spirits, especially Dex. He was adorably sweet and I loved his sense of humor. And really, who doesn't love a guy in a pea coat (and a purple one no less)?  I enjoyed seeing Izzy's point of view; I found her to be a good main character and rarely did she do anything that made me frustrated. I am intrigued with Torin and all his years being trapped in the Brannick mirror. Does he make an appearance in the Hex Hall books? There was not a single character I didn't like, which is a nice change from the books I've read recently.
Final Thoughts:
School Spirits is a really engaging, lively read that opened my eyes to Rachel Hawkins and now I must go and read the Hex Hall series.
Thank you Disney-Hyperion for an advance copy of School Spirits in exchange for an honest review.