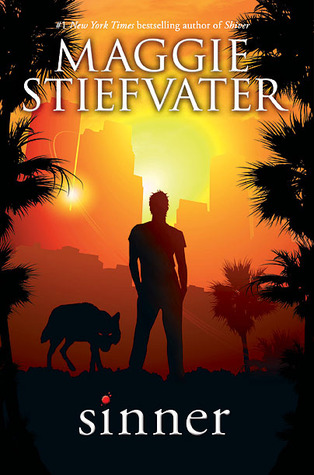 Sinner
By: Maggie Stiefvater
Release Date: July 1st 2014
Publisher: Scholastic Press
Format: Print ARC
Source: Publisher
An advanced copy was provided to me by the publisher in exchange for an honest review.
My Rating:

Summary:
Sinner follows Cole St. Clair, a pivotal character from the #1 New York Times bestselling Shiver Trilogy. Everybody thinks they know Cole's story. Stardom. Addiction. Downfall. Disappearance. But only a few people know Cole's darkest secret — his ability to shift into a wolf. One of these people is Isabel. At one point, they may have even loved each other. But that feels like a lifetime ago. Now Cole is back. Back in the spotlight. Back in the danger zone. Back in Isabel's life. Can this sinner be saved?

The Story:
I read the Wolves of Mercy Falls series prior to my starting the blog so I've not reviewed them but I enjoyed them immensely. They were my gateway to all things Maggie Stiefvater and since reading Shiver I had her on my read everything list. Though it had been years since I last read about these characters it was surprisingly easy to remember what had happened and who I was reading about. Like everyone else I thought that Forever was the last I'd see of this world so of course hearing this book focused on Cole and Isabel was in the works I was thrilled. First and foremost, I was not disappointed in this addition to the series (though I will forever wish they had released a cover that matched the originals).  To me, this book felt like an ode to the fans and read much more like a contemporary than a paranormal.
If you've read prior three novels you know they center on humans transforming into wolves. This was such a small element in this story it felt more an inconvenience than anything. Instead, this story focused on the everyday lives of Isabel and Cole, alternating between their point of views.
There was little to no action in Sinner and most of the pages were filled with the characters thinking, growing or interacting. We watch as Cole picked up the pieces of his life and struggle to make them all correlate into his new drug free life. Isabel struggled with her parent's marriage falling apart and the loss of her brother. Though not a lot happened the pacing still felt fairly fast and if you've read Stiefvater's work before you know her writing is always beautiful.
The Characters:
Of course, the characters were where Maggie's writing shone. I absolutely loved her character's dialog and the banter between them. She mastered, yet again, making these characters even more real and unique with each chapter and glimpse into who they are past the façade.
Cole and Isabel are both cloaked in a thick outer layer and a multitude of defenses. On the outside, they are perfectly executed clichés of what a musician and beautiful, tall, blond are excepted to be like. Yet below the snark you see glimpses of exquisite unique bits of their hearts and souls- even the brutal truths so tightly under wraps. Watching these layers fall away and the two characters struggling to come to terms with themselves and each other was really enjoyable.
Not only were the two main characters wonderfully done but I adored the side characters. You can tell that Stiefvater doesn't consider her surrounding characters as throw aways or simply there to push the main characters where they need to go. It's evident that she has breathed life into them and spends time making them feel whole. Perfect example- Cole and Isabel themselves started as secondary characters.
Final Thoughts:
Sinner was 100% character driven and relies on the fact that you love the characters and are invested in their lives. If you can't find that affection or connection you might be disappointed in the lack of paranormal elements or action scenes.