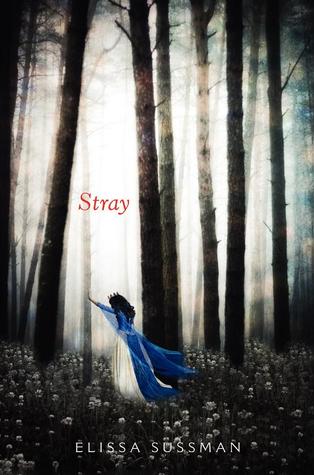 Stray
By: Elissa Sussman
Release Date: October 7th 2014
Publisher: Greenwillow
Format: Print ARC
Source: Publisher
A copy of this book was provided by the publisher in exchange for an honest review.
My Rating:

Summary:
"I am grateful for my father, who keeps me good and sweet. I am grateful for my mother, who keeps her own heart guarded and safe. I am grateful for my adviser, who keeps me protected. I am grateful for the Path, which keeps me pure. Ever after."

Princess Aislynn has long dreamed about attending her Introduction Ball, about dancing with the handsome suitors her adviser has chosen for her, about meeting her true love and starting her happily ever after.
When the night of the ball finally arrives and Nerine Academy is awash with roses and royalty, Aislynn wants nothing more than to dance the night away, dutifully following the Path that has been laid out for her. She does not intend to stray.
But try as she might, Aislynn has never quite managed to control the magic that burns within her-magic brought on by wicked, terrible desires that threaten the Path she has vowed to take.
After all, it is wrong to want what you do not need. Isn't it?
The Story:
I had incredibly high expectations and hopes for Stray. After reading the summary I knew I had to read this one sooner than later so was thrilled to receive the print ARC. Upon reading it though, I started to wonder if this book was going to be for me. The writing wasn't bad, but because it was based on fairy tales some of the references seemed heavy handed. People in this world have saying like, "thank the glass slipper" which was too much for me. It really veered on corny for my liking. I was tempted to DNF but decided to keep reading because of how much I've been looking forward to this story.
I was happy that the further I read the more I enjoyed the story and the less frequent the corny fairy tale references were. I still never fully grasped the world building in this one though. Why were only the women afflicted by magic? Who created The Path and why did everyone go along with it? I had so many questions and none of them were answered in this first book. It looks like there will be other companion stories but for my enjoyment I needed more from this book.
I expected a much darker story since it was compared to The Handmaid's Tale but I was never at the edge of my seat, disturbed or overly concerned for the main character. I guess this was evidence of my disconnect to the story. Honestly, this one read more like a middle grade book to me because the depth I expected wasn't ever there. I think someone going into this without the expectations that I had might have a better reading experience. Overall, the story felt a bit rushed to me and the conclusion seemed too easily wrapped up.
The Characters:
I wasn't overly impressed with any of the characters though they weren't poorly done either. As with the world building and story itself I never really connected to anyone. I didn't find them a chore to read but I also wasn't swept away with their stories. The main character, Princess Aislynn, was okay but I struggled to really fear for her. I did appreciate that she took matters into her own hands and grew stronger as the story progressed. Her romance was done well though not as present as I would have liked.
The side characters were fleshed out for the most part excluding the villains. I enjoyed learning about the lives of the Fairy Godmothers and felt that though things were lightly touched upon there was some creative ideas presented. The villains were largely ignored which I believe made it hard for me to really feel the intensity of the story or for me to connect. They were very one dimensional and absent from the storyline. I never felt they were a true threat.
Final Thoughts:
Overall, I felt that Stray was a disappointment. Perhaps my expectations were too high which led to me not meshing with this book the way that I'd have liked. There were some interesting ideas broached but I felt that not enough detail or world building was presented to really create a successful story. I believe that if you were to go into this one expecting more of a casual tale with the feel of a middle grade novel you'd be pleased since they book was fast paced and kept my interest for the most part.