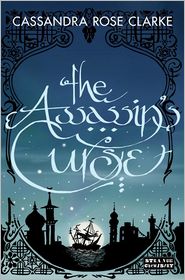 The Assassin's Curse
By: Cassandra Rose Clarke
Release Date: October 2, 2012
Publisher: Strange Chemistry
Source: Purchased for Kindle
My Rating:

Summary (via Goodreads):
Ananna of the Tanarau abandons ship when her parents try to marry her off to an allying pirate clan: she wants to captain her own boat, not serve as second-in-command to her handsome yet clueless fiance. But her escape has dire consequences when she learns the scorned clan has sent an assassin after her.
And when the assassin, Naji, finally catches up with her, things get even worse. Ananna inadvertently triggers a nasty curse — with a life-altering result. Now Ananna and Naji are forced to become uneasy allies as they work together to break the curse and return their lives back to normal. Or at least as normal as the lives of a pirate and an assassin can be.
The Story:
This book was so much fun to read; I breezed through it not wanting to stop once I got into the story. It was fast paced though not a whole lot happens within the central story arc. It's a lot about the relationship between Naji and Ananna. Often times I am annoyed when there isn't a defined story climax or not a lot of progression but with The Assassin's Curse I wasn't bothered in the least. I ate up every word and let myself be pulled around the world presented to me. I loved the settings (desert, pirate ships,e etc) that Clarke chose to place her characters. I've not read many books with these settings but there should really be more.
The Characters:
At first I was the tiniest bit put off with Ananna's slang,
I ain't never been one to trust beautiful people, and Tarrin of the Hariri was the most beautiful man I ever saw.
That's the first line of the book. I had to reread it over to make sure I had read it correctly since the grammar threw me off. It didn't take long until I had voice for Ananna and was finding her so endearing I didn't care what grammar she used or didn't use. She is such a fun, charismatic and unique character I can't wait to read more adventures with her.
I immediately fell for Naji, give me an assassin with a large scar and I'm smitten. I know there should be nothing attractive about assassin's but for some reason I'm always drawn to them in fiction, and Naji is no exception. He is just aloof enough to be a mystery but open enough for me to love him.
Final Thoughts:
The Assassin's Curse was a blast to read and I can't wait to read The Pirate's Wish which releases in June.