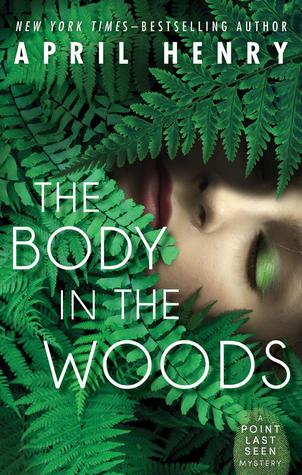 The Body in the Woods
By: April Henry
Release Date: June 17th 2014
Publisher: Henry Holt and Co
Source: ARC
A review copy of this book was provided to me by the publisher in exchange for an honest review.
My Rating:

Summary:
Alexis, Nick, and Ruby have very different backgrounds: Alexis has spent her life covering for her mom's mental illness, Nick's bravado hides his fear of not being good enough, and Ruby just wants to pursue her eccentric interests in a world that doesn't understand her. When the three teens join Portland County Sheriff's Search and Rescue, they are teamed up to search for a autistic man lost in the woods. What they find instead is a dead body. In a friendship that will be forged in danger, fear, and courage, the three team up to find the girl's killer—before he can strike one of their own.

The Story:
The Body in the Woods was overall a fun, fast and easy read. It was interesting enough to keep me reading though the mystery side of it wasn't as difficult to figure out as I would have liked. Henry's writing style was absorbing and kept me flipping the pages but I almost think this would have worked better as a middle grade book.
Where this story did stand out was the amount of research the author put into writing about Search and Rescue. I loved seeing the way the team worked together and I felt that the descriptions of their work to be the most interesting parts of the book. I've not read a novel that ventured so deeply into SAR so this was a welcomed aspect.
The police investigation and detective work were not done nearly as well. I was distracted by the detective assigned to the case and his lack of skill in his work. I can't imagine, or would rather not imagine, that a seasoned detective would be incapable of coming across some basic and easy to see clues. I felt that the case he built about his suspect was feeble and detracted from the story. The idea that the three teenager leads would be more inclined to see the obvious bothered me and took some of the credibility from the story.
The Characters:
I never was able to really connect to any of the characters though Ruby was the most interesting. I enjoyed her awkward nature and her interest in murders, birds and detective work. It was always alluded that she was not a 'normal' teen though no diagnosis was ever given. Since the story jumped around from all the characters point of view you were given little highlight about their lives. I enjoyed the sections with Ruby the most.
The other characters always felt two dimensional to me though there were details given about their lives. Alexis, our other female lead,  deals with some serious issues within the story. Even with a parent suffering from mental illness I never was able to really feel for Alexis. Her relationship with her trauma counselor felt barely there and honestly, I think more time could have been given to each of the characters.
Nick, the male lead, was the least acknowledged to me. Though he played an important role in the plot development I never felt all that sure of his personality. If the sequels deal with these same characters I imagine we'll learn more about each of them as it goes on.
Henry also wrote from the killer's point of view. I'm never sure how I feel about that to be honest. In this book I felt that it didn't add all that much and could have done without it. I felt that because we saw the clues in his sections it made the mystery part a lot easier to see coming.
Final Thoughts:
Though The Body in the Woods was an entertaining read nothing really stood out about the plot or characters. For a quick, fun, summer read I'd say this was a good read but don't expect to feel terrified for the characters or become overly invested in their personal stories.