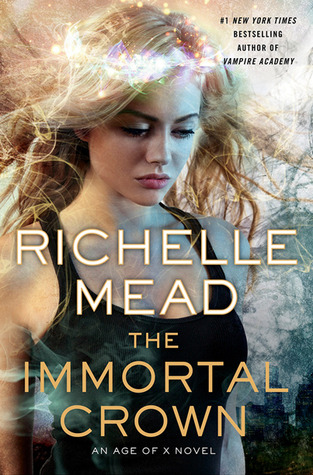 The Immortal Crown (Age of X #2)
By: Richelle Mead
Release Date: May 29th 2014
Publisher: Dutton Adult
Source: Hardcover
A copy of this book was provided by the publisher in exchange for an honest review.
For my review of Gameboard of the Gods look here.

My Rating:

Summary:
Gameboard of the Gods introduced religious investigator Justin March and Mae Koskinen, the beautiful supersoldier assigned to protect him. Together they have been charged with investigating reports of the supernatural and the return of the gods, both inside the Republic of United North America and out. With this highly classified knowledge comes a shocking revelation: Not only are the gods vying for human control, but the elect—special humans marked by the divine—are turning against one another in bloody fashion.

Their mission takes a new twist when they are assigned to a diplomatic delegation headed by Lucian Darling, Justin's old friend and rival, going into Arcadia, the RUNA's dangerous neighboring country. Here, in a society where women are commodities and religion is intertwined with government, Justin discovers powerful forces at work, even as he struggles to come to terms with his own reluctantly acquired deity.
Meanwhile, Mae—grudgingly posing as Justin's concubine—has a secret mission of her own: finding the illegitimate niece her family smuggled away years ago. But with Justin and Mae resisting the resurgence of the gods in Arcadia, a reporter's connection with someone close to Justin back home threatens to expose their mission—and with it the divine forces the government is determined to keep secret.
My Thoughts:
Since Age of X is an adult series the books are slower paced than my typical young adult books but regardless, The Immortal Crown was so, so good. I am suffering a book hangover since I've finished and am struggling with figuring out what to highlight in this review.
I absolutely love the world that Mead has created. It feels 100% real to me. It is fairly complex and though I remember feeling vaguely confused in the first book, Gameboard of the Gods, things came much faster to me in this installment. Even though I did not reread the first book I could recall the setting, story line and characters with ease.
Mead has created a very in depth, detailed infrastructure to her society and world. I love all the details and where in the first book it felt a bit overwhelming, in this one I loved each additional bit I learned about the society. In The Immortal Crown we venture into Arcadia, which is mentioned in book one but not explored. I was appalled with this society yet intrigued with watching our characters function in it.
I have always enjoyed the relationship between Justin and Mae but in this book I was behind them so much more. I was captivated with each moment they spent together. Though Justin was harder to stomach in the first book (possibly due to my lack of understanding him or his significant growth in this installment) I found myself really loving his character.
Tessa was present once again but I wasn't as enthralled with her story line. I felt that Tessa's sections were less about her personal growth and more advancement and background for the overall story-arc. This could be why these sections dragged a bit more for me. Really though, I just wanted to get back to Mae and Justin.
Final Thoughts:
The Immortal Crown built upon the complex world provided in Gameboard of the Gods and delved even deeper. I felt that this sequel was actually stronger than the first book and has set things up for an amazing third book.