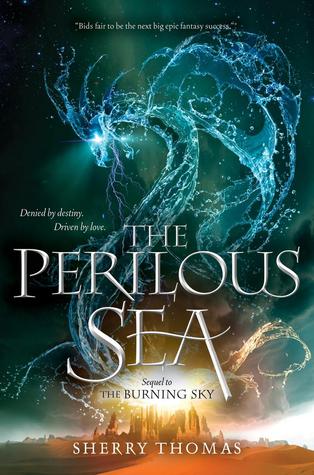 The Perilous Sea
By: Sherry Thomas
Release Date: September 16th 2014
Publisher: Balzer + Bray
Format: Physical ARC
Source: Friend
My Rating:

This is the second of a trilogy. You can see my review for The Burning Sky here.
Summary:
After spending the summer away from each other, Titus and Iolanthe (still disguised as Archer Fairfax) are eager to return to Eton College to resume their training to fight the Bane. Although no longer bound to Titus by a blood oath, Iolanthe is more committed than ever to fulfilling her destiny—especially with the agents of Atlantis quickly closing in.

Soon after arriving at school, though, Titus makes a shocking discovery, one that makes him question everything he previously believed about their mission. Faced with this devastating realization, Iolanthe is forced to come to terms with her new role, while Titus must choose between following his mother's prophecies—and forging a divergent path to an unknowable future.
The Story:
The Perilous Sea has been one of my most anticipated reads for 2014. I was so happy that I ended up loving it and felt that it was a perfect continuation to last year's The Burning Sky. I do wish that I was able to have reread the first book because, as with many fantasy novels, I was a tad lost at the beginning. It took me a few chapters to get back into this world and remember where the first book had left off. If you can squeeze in reading the first book again I'd recommend doing it. If not, you'll probably have a slow start but it'll pick up and you'll remember the details as you read.
Thomas has a very unique writing style that I adore. At times, some of the book can feel confusing but I love watching how her stories tie together. This story was told in two timelines, one seven weeks in the future and the other from Titus and Iolanthe's present and up to where the second story started. Did that make sense? See, it can be a bit confusing but so worth reading. I found the pacing to be moderate with sections I wanted to savor and others I sped through because I wanted to know what was going to happen next.
This sequel felt less magical than the first since there was less focus on Iolanthe's powers. I felt that the fantasy elements were tapped down some though we still go at times into the crucible (an element I loved in the first book). This book read more as an adventure to me since many of the scenes were action based.
The Characters:
Titus and Iolanthe are my favorite aspects of the Elemental Trilogy. This book was from both of their point of views and I absolutely adored reading from both. I felt that they each had a unique voice. I adore their interactions and affection towards one another. These two are one of my very favorite couples in young adult. I connected very easily to them both and found that both had developed further than the first novel. I enjoy that there was no love triangle (hurray!) and that though there are complications, I was never annoyed but the obstacles set before them.
I mentioned there wasn't a love triangle but also less romance all together in this sequel. Honestly, I wouldn't have complained if there had been a tad more romance since Thomas has incredible talent in writing those scenes. Side note, Thomas has written many romance novels that I'm actually tempted to read since I love her writing style so much. I'm not at all a romance reader but if anyone could entice me it would be Thomas.
I felt that the side cast wasn't explored as much in this novel though I still enjoyed their moments. Of course, since this was a sequel I'm finding it hard to give details but continue to be spoiler free. I'll leave it at if you've read the first book you'll have to read this one and the next.
Final Thoughts:
The Perilous Sea did not disappoint. Though I wasn't able to read the first book again prior to reading this one it didn't take me long to get back into the story and characters. Again, Thomas' writing was beautifully done and I can't get enough of Titus and Iolanthe.