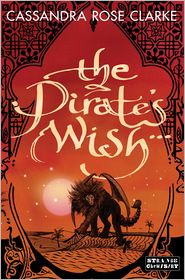 The Pirate's Wish (The Assassin's Curse #2)
By: Cassandra Rose Clarke
Release Date: June 4, 2013
Publisher: Strange Chemistry
Electronic copy of this book was provided by the publisher in exchange for a honest review.
This is the second in a series so might contain spoilers from the first novel. Read my review for The Assassin's Curse here.
My Rating:

Summary (via Goodreads):
After setting out to break the curse that binds them together, the pirate Ananna and the assassin Naji find themselves stranded on an enchanted island in the north with nothing but a sword, their wits, and the secret to breaking the curse: complete three impossible tasks. With the help of their friend Marjani and a rather unusual ally, Ananna and Naji make their way south again, seeking what seems to be beyond their reach.
Unfortunately, Naji has enemies from the shadowy world known as the Mists, and Ananna must still face the repercussions of going up against the Pirate Confederation. Together, Naji and Ananna must break the curse, escape their enemies — and come to terms with their growing romantic attraction.
The Story:
The first in this series, The Assassin's Curse, was a wonderful surprise to me. I was swept away with the setting and characters. Needless to say I couldn't wait to get into reading The Pirate's Wish. I was happy it started where the other left off and our characters were true to themselves. I felt that some of the story dragged and I wished the three impossible tasks had been a bit more impossible. Overall it kept with the fun nature of the first, though I felt this one veered into the realm of silly (there were talking sharks–this was too far for me).
 The Characters:
Ananna was angst filled for a lot of the book but this didn't hamper her growth. The romance was there, but was a tad different than I expected and I found myself frustrated as I often am with characters not communicating. A new character played a rather large role, it would be a spoiler to reveal details, but I will say I wasn't quite sure how I felt about her.
Final Thoughts:
I wasn't as blown away with The Pirate's Wish as I would have liked mostly due to the story going into the territory of talking animals. For some reason it just seemed really 'off' to me and I couldn't shake it feeling silly. I am happy I read it and I will likely read more of what Clarke has to offer.