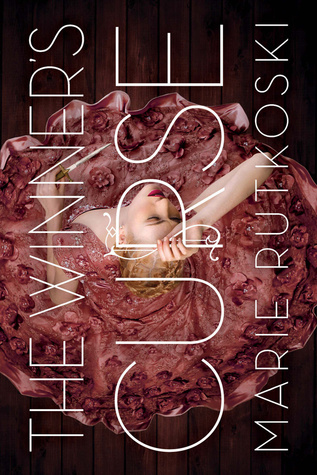 The Winner's Curse
By: Marie Rutkoski
Release Date: March 4th 2014
Publisher: Farrar Straus Giroux
Source: ARC (won in giveaway)
My Rating:

Summary:
Winning what you want may cost you everything you love As a general's daughter in a vast empire that revels in war and enslaves those it conquers, seventeen-year-old Kestrel has two choices: she can join the military or get married. But Kestrel has other intentions. One day, she is startled to find a kindred spirit in a young slave up for auction. Arin's eyes seem to defy everything and everyone. Following her instinct, Kestrel buys him—with unexpected consequences. It's not long before she has to hide her growing love for Arin. But he, too, has a secret, and Kestrel quickly learns that the price she paid for a fellow human is much higher than she ever could have imagined. Set in a richly imagined new world, The Winner's Curse by Marie Rutkoski is a story of deadly games where everything is at stake, and the gamble is whether you will keep your head or lose your heart.

The Story:
Sadly, there is no possible way for me to be as eloquent as I would desire in this review of The Winner's Curse. There are those few times where a book hits in just the right way and moment to be absolutely perfect and when this occurs it seems words elude me.
I have read The Winner's Curse twice now, both times in one evening. I find this book to be absolutely perfect for me in every way. The story flows smoothly, never feeling rushed yet at a pace that keeps me turning the pages past when I should have gone to bed. Rutkoski's writing is lush, vivid and romantic. She is able to put so much emotion in a character's glance that it left me breathless.
The story itself is one that is classic to humanity's past though I wish it were not; societies fighting over land, people being separated by tradition. Rutkoski pulls many elements from history and it is evident that she has a firm grasp on history and anthropology. She writes of the Herrani, a society that has been enslaved by their conquerors the Valorians. 10 years has passed since the Valorians took control of the Herrani's land and made them slaves.
Rutkoski chose to write in third person which allowed for surrounding descriptions as well as insight into her two main characters, Arin and Kestrel. I usually connect easier when a story is written in first person but Rutkoski was capable of conveying emotion with an ease I've not read in a long time.
The Characters:
I was immediately drawn to Kestrel because of her bluntness and clear lack of fitting in with her peers.  I was pulled on her emotional journey and discovery and felt things as I imagined she did.
The secondary characters were well rounded and felt real to me. I loved Kestrel's friend Jess even though she was so much less aware than Kestrel of their situation. I felt that her naiveté was understandable and am very curious to see how her character develops later in the series. I think there will be some significant growth there. Her brother Ronan was endearing in his lightness and jovial attitude. I see him changing over the course of the series as well. I loved that Rutkowski introduced no characters that didn't serve a purpose and felt substantial to the story arc.
This review wouldn't be adequate without a more detailed mention of Arin our other main character. He was exactly what I seek in not only a character but also in a love interest. He was motivated by his own purposes but his affections for Kestrel cause him internal strife and struggle. Their story was a slow-burn type of friendship that slowly unfurls into something more. I adored the star-crossed lovers angle and feel that Rutkoski did it beautifully.
Final Thoughts:
I've hesitated in even publishing my review because I've gone over it for months trying to express how I felt about this story. I decided to go ahead and put this out there in case you needed a push to read this book. Obviously, it can't be for everyone but for me and my taste it was perfection. I adore Rutkoski's writing style and the relationships between her characters as well as the overall story.
Extras:
I was part of the blog tour for this book. You can read my interview with Marie Rutkoski here
My review of The Shadow Society by Marie Rutkoski
We had to do some fan-art for this book of course. If you missed it our Lego cover of The Winner's Curse