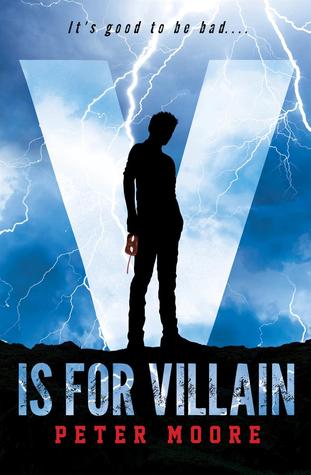 V is for Villain
By: Peter Moore
Release Date: May 20th 2014
Publisher: Disney-Hyperion
Source: ARC
A copy of this book was provided by the publisher in exchange for an honest review.
My Rating:

Summary:
Brad Baron is used to looking lame compared to his older brother, Blake. Though Brad's basically a genius, Blake is a superhero in the elite Justice Force. And Brad doesn't measure up at his high school, either, where powers like super-strength and flying are the norm. So when Brad makes friends who are more into political action than weight lifting, he's happy to join a new crew-especially since it means spending more time with Layla, a girl who may or may not have a totally illegal, totally secret super-power. And with her help, Brad begins to hone a dangerous new power of his own.

But when they're pulled into a web of nefarious criminals, high-stakes battles, and startling family secrets, Brad must choose which side he's on. And once he does, there's no turning back.
My Thoughts:
I've got to admit, I didn't grow up loving super-heroes but since I've had my son I've learned to appreciate this genre a lot more. I've not delved much into the super-hero lore but I could see that V is for Villain played with the classic depictions of good and evil. Regardless of the somewhat predictable outcome I found this book to be a blast to read and enjoyed it thoroughly.
Recently there seem to be an influx of villain themed media. More authors are looking into what it means to be on the other side of heroism and what aspects go into making a villain. V is for Villain looks into this as well but, to me, stayed within the grey between true right and wrong. Moore's depiction of hero and villain was hazy; there was never clear cut right or wrong side. Where many of the explorations into the evil side are truly dark and twisted, V is for Villain never ventured there and always stayed appropriate for middle grade (though I believe this book is considered young adult?).
My favorite aspect of this book was Brad Baron, our less than super main character. I loved his voice start to finish because of his witty and sarcastic tone, and the added footnotes explaining phrases or what not was an excellent touch. He was instantly likeable to me. Though Brad's character developed the secondary cast was much less looked into. There was a romance but it was such a small role in the story it was really an afterthought.
Moore was able to ask some big questions as well as create some really fun and fast paced action scenes. Though the entertainment was there the book suffered only in the plot predictability. It was crystal clear what was going on before the book's climax. Brad's 'perfect' older brother Blake was a character I wished could have been developed a bit more and been a tad less cliché. I understood the point in having Blake this way but I'd have enjoyed it had he broken from the mold just a bit more.
Final Thoughts:
V is for Villain was a fast paced and funny glimpse into the struggles of determining what was right and wrong. Moore created a comical yet poignant look into family relationships and accepting yourself wrapped up in the sarcastic voice of Brad.