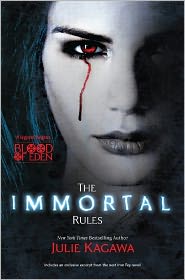 The Immortal Rules (Blood of Eden 1)
By: Julie Kagawa
Release Date: April 24, 2012
Publisher: Harlequin Teen
My Rating:

Summary (via Goodreads):
To survive in a ruined world, she must embrace the darkness…
Allison Sekemoto survives in the Fringe, the outermost circle of a walled-in city. By day, she and her crew scavenge for food. By night, any one of them could be eaten. Some days, all that drives Allie is her hatred of them—the vampires who keep humans as blood cattle. Until the night Allie herself dies and becomes one of the monsters.
Forced to flee her city, Allie must pass for human as she joins a ragged group of pilgrims seeking a legend—a place that might have a cure for the disease that killed off most of civilization and created the rabids, the bloodthirsty creatures who threaten human and vampire alike. And soon Allie will have to decide what and who is worth dying for…again.
The Story:
I was immediately sucked into the world Kagawa created: drifters, vampires, pets and rabids all trying to survive in a world ravaged by the Red Lung Disease.  The subject of vampires has been done so many times it can really get stale but somehow Kagawa tells a story that was not only riveting but surprising. The books moves at an impressive pace and kept me turning pages as fast as I could read. Probably my favorite aspect of the story was the way she incorporated a vampire story with her own version of zombies, rabids. With the amount of turmoil and strife present it would have been easy to create a story that had no hope but Kagawa was able to keep that slight glimmer ever present that not only inspired her characters but the reader as well.
The Characters:
Kagawa created a world where everyone was looking out for themselves and trying to survive, vampire and human alike. This overwhelming need to survive developed humans that had lost their humanity as much as the vampires. The world only encompassed a small number of people that kept other's interests ahead of their own. Our main character, Allie, always had a heart even when she tried to ignore it. She took in Sticks and helped him survive when he'd have zero chance without her. She seemed to be driven to do what was right even when her mind told her that it wasn't necessarily the smartest move to make. The constant debates on if she should try to survive or help another in need gave Allie a level of depth that I really appreciated. I was bogged down at times with the immense hatred and lack of compassion the humans she encountered possessed but it created a cruel world that was a wonderful backdrop to the small band of people trying to survive and create something better for the future of mankind.
Final Thoughts:
I am so happy I just read The Immortal Rules because I think having to wait for The Eternity Cure would have killed me. I have not read the Iron Fey series yet but its moved up the TBR pile.
Look for The Eternity Cure April 30, 2013
Thank you Harlequin Teen for the opportunity to read and review The Immortal Rules and The Eternity Cure. I was given an arc of both to provide a honest review by the publisher.
The Immortal Rules book trailer:

Buy this book:
Amazon

Barnes and Noble