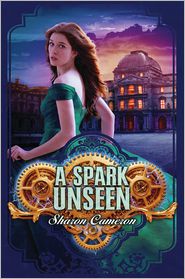 A Spark Unseen (releases September 24th) is the follow-up to the wonderful historical, steampunk inspired The Dark Unwinding. I loved The Dark Unwinding so jumped on the opportunity to be able to post the trailer for the next book and be in the blog tour next month, running from September 9-20th. My tour date is September 13th–be sure to come back and check it out.
If you'd like to participate in the tour you can find information here. (participants receive an arc of A Spark Unseen)
If you've not read The Dark Unwinding you can check out my spoiler free review and my interview with Sharon Cameron
Want to win a copy of this ARC?
Tweet or post on your own blog about the trailer release and be entered in to in win an arc of A Spark Unseen. You will need to include @CameronSharonE in the tweet in order to receive credit. Please tweet all blog links to the same twitter account. Retweets will also count.
About A Spark Unseen
The thrilling sequel to Sharon Cameron's blockbuster gothic steampunk romance, THE DARK UNWINDING, will captivate readers anew with mystery  and intrigue aplenty.
When Katharine Tulman wakes in the middle of the night and  accidentally foils a kidnapping attempt on her uncle, she realizes  Stranwyne Keep is no longer safe for Uncle Tully and his genius  inventions. She flees to Paris, where she hopes to remain undetected and also find the mysterious and handsome Lane, who is suspected to be  dead.
But the search for Lane is not easy, and Katharine soon finds herself embroiled in a labyrinth of political intrigue. And with unexpected  enemies and allies at every turn, Katharine will have to figure out whom she can trust–if anyone–to protect her uncle from danger once and for  all.Filled with deadly twists, whispering romance, and heart-stopping  suspense, this sequel to THE DARK UNWINDING whisks readers off on  another thrilling adventure.
A Spark Unseen Book Trailer:
The Dark Unwinding:
When Katharine Tulman's inheritance is called into question by the  rumor that her eccentric uncle is squandering away the family fortune,  she is sent to his estate to have him committed to an asylum.
But  instead of a lunatic, Katharine discovers a genius inventor with his own set of rules, who employs a village of nine hundred people rescued from the workhouses of London.Katharine is now torn between protecting her own inheritance and  preserving the peculiar community she grows to care for deeply.
And her  choices are made even more complicated by a handsome apprentice, a  secretive student, and fears for her own sanity.As the mysteries of the estate begin to unravel, it is clear that not only is her uncle's world at stake, but also the state of England as  Katharine knows it.
Sharon Cameron was awarded the 2009 Sue Alexander Most Promising New  Work Award by the Society of Children's Book Writers and Illustrators  for her debut novel, The Dark Unwinding. When not writing Sharon can be  found thumbing dusty tomes, shooting her longbow, or indulging in her  lifelong search for secret passages.