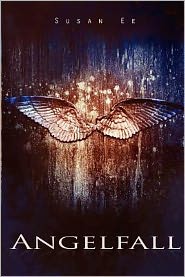 Angelfall
By: Susan Ee
Release Date: August 28, 2012
Publisher: Amazon Children's Publishing
My Rating:

Note: I read Angelfall soon after it released but I am just now reviewing it. Its one of my most frequent book recommendations.
Summary (via back of book):
It's been six weeks since angels of the apocalypse descended to demolish the modern world. Street gangs rule the day while fear and superstition rule the night. When warrior angels fly away with a helpless little girl, her seventeen-year-old sister, Penryn, will do anything to get her back.
Anything, including making a deal with an enemy angel.
Raffe is a warrior who lies broken and wingless on the street. After eons of fighting his own battles, he finds himself being rescued from a desperate situation by a half-starved teenage girl.
Traveling through a dark and twisted Northern California, they have only each other to rely on for survival. Together, they journey toward the angels' stronghold in San Francisco where Penryn will risk everything to rescue her sister, and Raffe will put himself at the mercy of his greatest enemies for the chance to be made whole again.
The Story:
Susan Ee has written such an amazing book I'm almost speechless. I've realized since writing reviews that the hardest to write are often for my favorite books. Angelfall is in the top five of all time for me. It is graphic, original, heartbreaking, haunting, disturbing, beautiful…and the list could go on. Simply, I loved it from page one to the very end. The moment I finished reading I rushed to her site to see when I'd be able to read book two. Back then it just had a vague: 'to be announced'. Thank God, now I know it'll be fall 2013. Susan Ee's writing is superb, I love her descriptions…here's one from page 1
Ironically, since the attacks, the sunsets have been glorious. Outside our condo window, the sky flames like a bruised mango in vivid orange, red, and purple. the clouds ignite with sunset colors, and I'm almost scared those of us caught below will catch on fire too
I was completely riveted to Ee's story and found myself on the edge of my seat, stomach twisting in anxiety for our characters. Not only that but I was surprised by some of the revelations which is always a wonderful element in any book.
The Characters:
Though the story was absolutely stunning the characters are what drove me to love Angelfall.  I immediately fell in love with Penryn's character. Susan Ee has created an incredibly strong heroine yet she has a touch of vulnerability allowing her to be relatable.
I am not as helpless as the average teen
I loved that she had a realistic yet heartbreaking reason for her ability to defend herself and fight. Of course, I won't be revealing the reason because you have to read the book to find out. I was really emotionally struck by and haunted by Ee's portrayal of Penryn's mother and her illness. Raffe is my hands down favorite fictional angel. He's mysterious, incredibly intriguing and his and Penyrn's exchanges are engaging and oozing sexual tension.
Final Thoughts:
Angelfall is a must read. Need more encouragement to move this up the TBR pile? Check out Goodreads to see all of the gushing reviews. You can read the first five chapters on Susan Ee's website.
In November of last year it was announced that a movie is being made.
Buy this book:
Amazon

Barnes and Noble