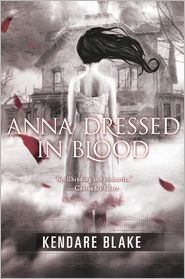 Anna Dressed in Blood
By: Kendare Blake
Release Date: August 30, 2011
Publisher: Tor Teen
My rating:

Summary (via jacket copy):
Just your average boy-meets-girl, girl-kills, people story…
Cas Lowood has inherited an unusual vocation: he kills the dead.
So did his father before him, until his gruesome murder by a ghost he sought to kill. Now, armed with his father's mysterious and deadly athame, Cas travels the country with his kitchen-witch mother and their spirit-sniffing cat. Together they follow legends and local lore and keep pesky things like the future and friends at bay.
When they arrive in a new town in search fo a ghost the locals call Anna Dressed in Blood, Cas doesn't expect anything outside of the ordinary: move, hunt, kill. What he finds instead is a girl entangled in curses and rage, a ghost like he's never faced before. She still wears the dress she wore on the day of her brutal murder in 1958: once white, but now stained red and dripping blood. Since her death, Anna has killed any and every person who has dared to step into the deserted Victorian house she used to call home.
But she, for whatever reason, spare his life.
The Story:
Anna Dressed in Blood is one of my favorite books (along with its sequel Girl of Nightmares). Kendare Blake has an unique way of writing that is beautifully lyrical yet has an eerie sometimes morbid tone,
…their coats of paint peeling in scabs and their shutters hanging crooked on their windows so they look like wounded eyes
I can comfortably say I've never read a description of a dilapidated house quite like that. So, not only is the story intriguing  (and will keep you up at night–or at least enter your dreams) the writing is beautiful and unique. And, the story is great…really great. So do yourself a favor and read it if you like anything to do with ghost stories or books on the creepy side of YA (which why aren't there more horror type young adult books out?)
The Characters:
I love the dry humor Cas has and his world view. I think Blake does such an amazing job of creating a male voice (in a world of YA that doesn't always succeed).  Here's how Cas describes himself,
I'm no superhero. If anything I'm Rorsc Rorschach from Watchmen. I'm Grendel. I'm the survivor in Silent Hill.
Not only do you actually feel like you are reading a male's thoughts; Blake also creates realistic and layered secondary characters. From the school queen bee: Carmel, the gifted loner: Thomas, to a ghost seeing cat: Tybalt each is given depth and unique personalities. I thought I wouldn't care for Carmel, her being the 'queen bee' of the school but Blake manages to make her a well rounded even lovable character. And we can't forget Anna. Its a skill to create a character that you simultaneously fear, love and hate all wrapped in one person. I felt all of this towards her. I don't want to go to much into her back story because I don't want to give away (plus I can't possibly do it as well as Blake did).
Final thoughts:
It was announced earlier this month that Stephenie Meyer, the writer of the Twilight series, is set to develop Anna Dressed in Blood for film.
Anna Dressed In Blood book Trailer

Buy Anna Dressed in Blood
Amazon

Barnes and Noble
Buy Girl of Nightmares
Amazon

Barnes and Noble