I am honored to have JR Johansson the author of the Night Walker series on the blog today to discuss music and which songs set the mood to her latest book, Paranoia. I read Insomnia last year and really enjoyed it (my review)–I can't wait to read Paranoia.

Here's what Johansson had to say about how music impacts her writing:
I'm kind of a freak about music. I love it more than is probably normal. I can't clean my house, workout or even get ready in the morning without a playlist. So it might surprise you that when I'm writing, I need silence. I can't listen to any music when I write or I end up humming, singing and making up lyrics instead of doing what I'm supposed to be doing…writing a book.
This is rough on me because, like I said, I love music…but over the last few years of writing experience, I've found a good compromise. I still can't write with music on, but I now use music to help me get in 'the mood' if you will. I make playlists and I listen to them while running errands and such or in the mornings before I sit down to write. I find songs that fit a tone or particular scene/character and then I listen to those before I sit down to write. I've been surprised by how much it helps. After listening to these playlists, when I put my fingers on those keys, I'm ready to go. It's awesome.
My three favorite mood setting songs to listen to while getting ready for PARANOIA were:
MONSTER by Eminem feat. Rhianna

A few favorite lines:
'Keep knocking, nobody's home. I'm sleepwalking. I'm just relaying what the voice in my head saying. Don't shoot the messenger, I'm just friends with the monster'
'You're trying to save me stop holding your breath. And you think I'm crazy, well that's not fair.'
LETTERS FROM THE SKY by Civil Twilight

"One of these days the sky's gonna break and everything will escape and I'll know. One of these days the mountains are gonna fall into the sea and they'll know."
"That you and I were made for this I was made to taste your kiss. We were made to never fall away. Never fall away."
DEMONS by Imagine Dragons

"When you feel my heat, look into my eyes. It's where my demons hide. It's where my demons hide. Don't get too close, it's dark inside. It's where my demons hide. It's where my demons hide."
"Don't wanna let you down, but I am hell bound. Though this is all for you, don't wanna hide the truth. No matter what we breed, we still are made of greed. This is my kindom come. This is my kingdom come."
"They say it's what you make. I say it's up to fate. It's woven in my soul. I need to let you go. Your eyes they shine so bright, I wanna save that light. I can't escape this now, unless you show me how."
Do any songs remind you of scenes or characters from books or movies? Thanks for letting me stop by for a guest post!
About the Author:

J.R. JOHANSSON is a young adult thriller author. Her books INSOMNIA, PARANOIA (June 2014), and a third untitled book (June 2015) are with Flux Books. CUT ME FREE (Winter 2015) and another untitled book (Winter 2016) will be coming out with FSG/Macmillan.  She has a B.S. degree in public relations and a background in marketing. She credits her abnormal psychology minor with inspiring many of her characters. When she's not writing, she loves reading, playing board games, and sitting in her hot tub. Her dream is that someday she can do all three at the same time. She has two young sons and a wonderful husband. In fact, other than her cat, Cleo, she's nearly drowning in testosterone.
Twitter                 Blog                 Site               Tumblr                   Facebook 
J.R. Johansson on Goodreads               PARANOIA on Goodreads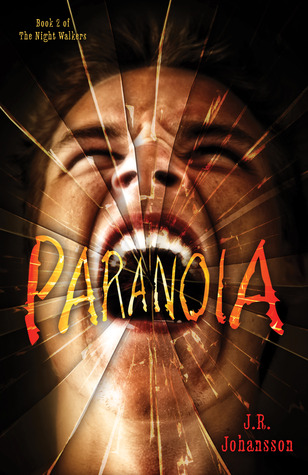 About the Book:
With Every Night of Blissful Sleep Darkness Grows Inside Him.
In the aftermath of the events that nearly killed him, Parker Chipp is trying to learn to cope better with life as a Watcher. And it seems to be working…until he wakes up in jail with a hangover and 12 hours of missing time. Darkness has somehow taken control and Parker doesn't have a clue how to stop him. He finds an unlikely ally in Jack, the mysterious guy in the motorcycle jacket who offers to help Parker master his abilities as a Watcher. But even as they practice, the darkness inside Parker is getting more and more powerful, taking over Parker's body and doing everything he can to destroy Parker's life.
When Jack reveals that there is another kind of Night Walker, known as a Taker, Parker starts to wonder if the strange things happening in Oakville are more than just a coincidence. After all, people are more than just sleepwalking. They're emptying their savings accounts with no memory of doing so, wandering into strange parts of town and disappearing, they're even killing other people–all in their sleep. If Parker wants to find out what's happening or have any hope of seeing his father again, he'll have to defy Jack and put his own life in danger…because the more he learns about these other Night Walkers, the more certain he becomes that his life isn't the only one that could be lost.
Paranoia will be available from Flux June 8th 2014
Pre-order Links
The Book Depository         Indiebound         Books A Million
Barnes & Noble          Amazon