There have been a few retellings recently featuring Peter Pan so when I saw Alias Hook, which is about Captain Hook, I was sold. I was very excited to be included in the  blog tour as well as getting a chance to read this book prior to its release.  Below you will find my review and information on the book.

Praise for Lisa Jensen's ALIAS HOOK
"Jensen's wonderful imagination and devotion to history and myth allow the reader to fly with her through this outstanding adventure – no fairy dust required."
—Publishers Weekly 
"Scintillating description and deep characterization make Jensen's (Witch from the Sea) Neverland a psychologically intriguing place to visit. Following in the footsteps of Gregory Maguire, Carolyn Turgeon, and Frank Beddor, Jensen offers a humanized take on Captain Hook that will be sure to entertain…"
—Library Journal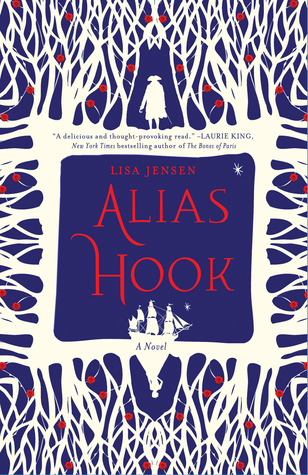 Alias Hook
By: Lisa Jensen
Release Date: July 8th 2014
Publisher: Thomas Dunne Books
Source: E-ARC
Format: Publisher
This is an adult novel so some of the content is for mature audiences.
My Rating:

Summary:
"Every child knows how the story ends. The wicked pirate captain is flung overboard, caught in the jaws of the monster crocodile who drags him down to a watery grave. But it was not yet my time to die. It's my fate to be trapped here forever, in a nightmare of childhood fancy, with that infernal, eternal boy."
Meet Captain James Benjamin Hook, a witty, educated Restoration-era privateer cursed to play villain to a pack of malicious little boys in a pointless war that never ends. But everything changes when Stella Parrish, a forbidden grown woman, dreams her way to the Neverland in defiance of Pan's rules. From the glamour of the Fairy Revels, to the secret ceremonies of the First Tribes, to the mysterious underwater temple beneath the Mermaid Lagoon, the magical forces of the Neverland open up for Stella as they never have for Hook. And in the pirate captain himself, she begins to see someone far more complex than the storybook villain.
With Stella's knowledge of folk and fairy tales, she might be Hook's last chance for redemption and release if they can break his curse before Pan and his warrior boys hunt her down and drag Hook back to their neverending game.
The Story:
I'm not overly familiar with Peter Pan, though this was my second retelling I've read recently. I feel like we generally see things from the 'good guys' point of view but in this novel Jensen delves into who Hook was and the person behind the known villain. We traverse the story through James Hook's point of view and flip flop between his present day and past. I absolutely loved the glimpses into his past and found that Jensen did an exceptional job bringing life to the setting and character.
Jensen's writing was lush but dense, soaked in beautiful details which at times might bog down a reader that prefers faster paced reads. I found the prose to be done beautifully. Here's an example from the ARC so it might be changed in the final version,
Stars scatter like diamonds across the black sky when we finally break the surface of the lagoon. All is still but for a lazy chittering of insects.
(55% into the ARC)
I was drawn into Neverland in a way I'd never been before. Jensen was able to turn everything I'd ever thought about it on its head and have me seeing things completely anew. I loved this aspect of the novel and was impressed with her creativity.
The classic locations present in the films and stories was also included in Alias Hook in new ways which was compelling and delightful. I especially enjoyed Jensen's take the Mermaid Lagoon. I found the description of the location and the mermaids to be detailed and I was clearly able to picture the setting,
Clusters of glowing, incandescent crystals, unimaginable in the world above, thrust downward from the rock ceiling like gaudy chandeliers, bathing everything in rainbow hues: turquoise green, cobalt blue, ruby, violet.  Soft, dark shadows gird the perimeter of this enclosed space so far from the sun, but a luminous mineral haze hangs in the air, and the water glows velvet green. (51% into  the ARC)
You can really visualize that can't you? I love "mineral haze" and found all the descriptions in this book to be so beautifully executed. Imagine that level of detail for every location in the classic Peter Pan as well as the characters and you'll have a good grasp of this novel.
That being said, the storyline was impressive. I enjoyed reading the flashbacks from Hook's past as well as his growth in his present state in Neverland. I felt that each gave such deep insight into his character and motivations.
The Characters:
Jensen did an impressive job adding her own twist to these classic characters. I found the time spent on Hook's backstory, when he was known as James Benjamin Hookbridge to be some of my favorite sections because it was very easy to see how his character developed. For me, this was the first look into what he might have been like beyond being the villain of Peter Pan. His personal demons and journey were done exquisitely well having me completely wrapped up in his story even when I hated a good amount of his actions past and present.
Another strong character in Alias Hook was Stella. She was headstrong and a perfect addition to Hook's demeanor. I enjoyed their dialog but did feel that the romance between them went heavy faster than I would have liked. I'm all for a slow burn so I was disappointed that things between them happened as fast and in the depth it did so suddenly. Don't get me wrong, it didn't feel like insta-love I just wanted to have their affections denied for a longer amount of time.
I was most impressed with the imagery that Jensen provided surrounding the boy that never grows up, Peter Pan. I would never have fathomed how Peter Pan could be shown in a negative manner but Jensen was able to do it easily. I was disgusted with him though I was still able to find the slightest amount of empathy towards his situation.
Final Thoughts:
I would say that of all the Peter Pan retellings I've read Alias Hook has been the strongest. I loved Jensen's reimagined Neverland as well as her new takes on characters we all felt we knew fairly well. Her descriptive prose was lyrical, vivid and beautifully executed. If you are a reader that prefers a faster paced novel this might not be for you since the pacing was slow as well as the novel long.
Giveaway:
This giveaway is US only since the lovely folks at Thomas Dunne are providing the book.
a Rafflecopter giveaway