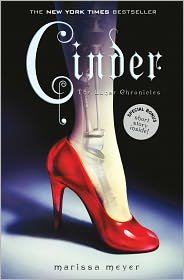 Cinder (in paperback)
By: Marissa Meyer
Release Date: January 3rd 2012
Publisher: Feiwel & Friends
My rating:

This review is spoiler free
Summary (via jacket copy):
Sixteen-year-old Cinder is considered a technological mistake by most of society and a burden by her stepmother. Being cyborg does have its benefits, though:  Cinder's brain interface has given her an uncanny ability to fix things (robots, hovers, her own malfunctioning parts), making her the best mechanic in New Beijing. This reputation brings Prince Kai himself to her weekly market booth. Needing her to repair a broken android before the annual ball. He jokingly calls it "a matter of national security," but Cinder suspects it's more serious than he's letting on.
Although eager to impress the prince, Cinder's intentions are derailed when her younger stepsister, and only human friend, is infected with the fatal plague that's been devastating  Earth for a decade. Blaming Cinder for her daughter's illness, Cinder's stepmother volunteers her body for plague research, an "honor" that no one has survived.
But it doesn't take long for the scientists to discover something unusual about their new guinea pig. Something others would kill for.
The Story:
Cinderella was never a fairy tale I gravitated to, but Marissa Meyer created a version that I adore– by creating a sci-fi Cinderella. Cinder isn't an exact futuristic replica of the classic but it takes some of the most known aspects (unloved stepdaughter, handsome prince, and a ball) and presents them in an unique way. Meyer gives enough background about the state of Earth and its interactions with the Lunar that you know what is going on but you are never bogged down. Though a lot of the subject matter is unhappy (prejudice, inequality, sickness) the story doesn't have a dark tone but has a hint of hope throughout. With New Beijing as the stunning backdrop, a future where relations with the Lunar (moon inhabitants) are stressed and cyborgs and androids walk the streets…what's not to love? I'll take a dash of Blade Runner with my fairy tale any day. The entire book moves at a fast pace and never failed to keep my attention. I'd set it down for a bit and always end up picking it up even if I didn't have time to read I was carrying it around everywhere I went, just in case. I have to say I knew where the story was headed but that didn't stop me from being captivated. As I got closer to the end I found myself anxious and reading faster and faster the fewer pages I had left. I can only imagine Scarlet is going to be even better.
The Characters:
Meyer creates a great cast of characters from Cinder to Iko. Cinder is strong willed and has a great sense of right and wrong. She's brave even when she's scared. I found myself getting a tad peeved at her at parts wishing she'd just fess up about certain things but since I had a good understanding of her life situation I could understand her reasoning. That brings us to our Prince, Kai is well rounded and like-able. He's young and has some lessons to learn but you have faith in who he is as a person and the decisions he'll make.
Final Thoughts:
I had really high expectations for Cinder because of all the great reviews and buzz I've heard and I wasn't disappointed at all.
Cinder: Book One of the Lunar Chronicles by Marissa Meyer (official book trailer) from Marissa Meyer on Vimeo.
Get a free sample Cinder: Chapters 1-5
A short prequel  to Cinder called Glitches which you can check out  here.
To buy Cinder (Lunar Chronicles 1) in paperback:
Amazon
To buy Cinder (Lunar Chronicles 1) in audiobook:
Amazon

You can listen here to the first chapter.
To pre-order Scarlet (Lunar Chronicles 2):
Amazon