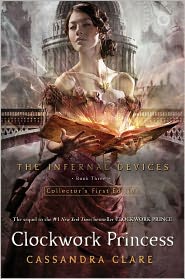 Clockwork Princess (The Infernal Devices #3)
By: Cassandra Clare
Release Date: March 19, 2013
Publisher: Margaret K. McElderry Books
My Rating:

Note: this is less a review and more a love letter
The Summary (via Goodreads):
Danger and betrayal, secrets and enchantment in the breathtaking conclusion to the Infernal Devices trilogy
Tessa Gray should be happy – aren't all brides happy?
Yet as she prepares for her wedding, a net of shadows begins to tighten around the Shadowhunters of the London Institute. A new demon appears, one linked by blood and secrecy to Mortmain, the man who plans to use his army of pitiless automatons, the Infernal Devices, to destroy the Shadowhunters. Mortmain needs only one last item to complete his plan. He needs Tessa. And Jem and Will, the boys who lay equal claim to Tessa's heart, will do anything to save her.
The Story:
It's so difficult to write a review for the end of a series and for one you love very deeply. I have been waiting in timid anticipation for this book since I finished Clockwork Prince, my heart still raw after Clare ripped it from me with Will's tale. I felt terrified about what she had planned for this last book, would it live up to the prior two? Would it have enough closure? Would it hurt to read and would the outcome crush me? I am happy to report that I loved every word of Clockwork Princess. I tried to read slowly because I wanted to savor every single word, every sentence. But, once I started to read it just sucked me in and I didn't want to, nor could I stop. I had to know where Clare was going to take Tessa, Will and Jem.
I was given the closure I desired but it wasn't a slow read that only focused on tying up loose ends, it was the completion of a journey. It was a full story in and of itself yet wrapped up everything from the prior books. I was swept away from beginning to end. I found myself misty eyed from the first chapter just because I knew it was the last of the series. I didn't want to have to say goodbye to this world and these characters I'd come to love greatly. I've seen that some readers have been iffy about the epilogue but after digesting what I read I am happy with where Clare took the story.
The Characters:
From the moment Clare introduced me to the characters of Clockwork Angel I fell in love; I became entranced with each of their stories. In Clockwork Princess I felt that the women had the most growth, especially Tessa and Charlotte. I loved watching them stand up to extreme obstacles and fight their own fears. The mysteries surrounding Tessa were answered and I was pleased where Clare took her character.
Jem was as wonderful as ever and parts of his story surprised me, Clare has guts and such an over arcing plan for each of her characters. Will, oh Will. He is on my top five favorite characters ever list. The completion of his story left nothing for me to desire, it was done perfectly.  Clare had me loving Magnus even more which I didn't think was possible. Not much can be written about the characters without going into spoiler territory but I felt Clare stayed true to the characters she created and really I loved every minute.
Final Thoughts:
By the Angel, if you have not read this series what are you waiting for? It is a must read.
Buy this book:
Blue Willow Bookshop
Amazon

Barnes and Noble
Where I recommend The Infernal Devices
I preordered a copy and didn't arrive soon enough so I had to buy a copy on release day. So I'm giving away my extra copy!
a Rafflecopter giveaway