Today I'm so excited to have Josin L. McQuein author of the sci-fi thriller Arclight on the blog. I read Arclight recently and it is one of my very favorites this year. The world and characters are incredibly original and I absolutely love the ominous aura throughout. Plus, I was actually surprised by the twists and turns.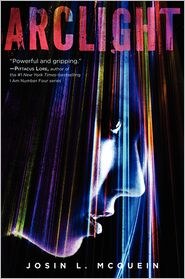 Where did your inspiration for the Dark and the Fade come from?
Ha! So you want to hear the "ant" story, do you? I won't give you the long version – because it is *long*, but basically, the Fade developed from a horrifying hiking experience in South America. Thankfully, I only heard about it second hand, but the hikers were trapped in a small hotel with no electricity during an army ant migration.  One of the women described waking up to the feel of something crawling on her in the night, and the sight of the wall paper "moving."
It was ants swarming down the walls, and over the floors, and over the hikers! AAH! Through the night, they watched this endless horde of ants stream through and eat all of the small rodents and scorpions, etc, they crossed. It was an image I never lost.
The Dark was the product of Arclight starting out as a space opera. The Fade lived in deep space and glowed. When I changed the story to an earth setting. I kept that eerie space-like blackness and silence for the dark. As creepy as it is in space, it's more unnerving on earth.
Marina, Rue and Tobin are all very unique and multi-dimensional; do you imagine your characters or their world first?
It depends on the book. For Arclight, it was definitely the world first, because of the way the idea stemmed from that hiker's story.
With Premeditated, it was the opposite. I had the image of this girl who was wearing a school uniform and hiding behind a set of stone steps. It was such a strange picture to have in my head because the way she looked felt totally at odds with her personality. She turned out to be the main character, who is hiding inside a school uniform, as cover to find the boy she blames for hurting someone she loves.
And with a book I've been working on for a while now, called Sing Down the Stars, I had both at the same time. I saw a character dressed as a mermaid in a sideshow carnival, which is a pretty specific atmosphere. That girl wasn't the main character, but she was integral
You created such an original concept with the Fade have you considered writing from one of their point of views?
I did actually consider doing a chapter or two from Rue's point of view, but the way they communicate is so odd, I'm not sure a reader could stand to see more than a paragraph or two in their "voice." They really don't phrase things like a human, so you pretty much need a translator to fill the gap when things get weird. Also, given the lack of grammatical structure, there's a terrible risk of Rue and the others sounding like they're using "broken" English, which isn't something anyone would enjoy.
I would love to read a prequel focusing on how the world descended into the Dark, can we ever hope for something like that (as you can tell I really just want to continue reading about your world)?
It's always been my hope/intent for Arclight to be a trilogy, and then to tell the story of how the original survivors banded together against the dark. If you've read Arclight, you'll kow whose story this would be, but I don't want to spoil that twist by using the character's name.
Would you rather live in the Arclight or in the Dark?
That's the big question, isn't it? Neither of those places is exactly what they seem to be, and each has its own secrets and shortcomings. I think the better question is *could* you live in the Arclight or the Dark? The way the Dark exists, it's really not possible for a human to live there for long. There's no regular plant life or food source, so the Arclight's a necessity for the people who live there.
I see that there is a sequel listed for Arclight (so happy about that!) called Meridian, was Arclight originally a standalone or always planned as a series? How many books can we expect?
It was always a series of independent novels. I'm not a fan of the first novel cliff-hanger, which is why there's a "hard" ending on Arclight. But, I think that ending is why there's so much surprise when people hear about the sequel.
Meridian isn't a rehash of book one. You'll see the characters venturing further out to face a threat that affects both them and the Fade. There's a deeper exploration of the Dark itself, and what – if anything – is left of the world beyond on. Marina's having difficulties with her still-emerging memories. The Arclight also finds that their discoveries concerning the Fade in book one were only partial; the Fade have been keeping a huge secret, and it's one they don't let go of easily.I'm hoping for four books, but we'll have to see how things go.
You have another book releasing this year (October), Premeditated, which is in the contemporary genre. Could you tell us about it?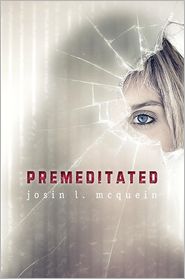 Premeditated is "the little novel that could." I almost didn't finish it, but got some encouragement from someone in the industry to polish it off. I didn't think anyone would want to read about some girl and her plot for vengeance.
Basically, Premeditated is the story of Dinah, whose younger cousin Claire tried to kill herself — or so everyone thinks. But Dinah knows better because she knows where Claire kept her biggest secrets. She uses a diary, some text messages and letters as a road map to reconstruct the last three weeks of Claire's life.
Once she discovers what had Claire so upset, Dinah makes up her mind to rebalance things on her own – she's convinced that this will make Claire better. She enlists the help of her friends and goes undercover at Claire's school to find the guy responisble for Claire's misery so that she can return the favor by deconstructing his perfect life. What she finds is not what she expects.
It's a story of assumptions, betrayals, love and loyalty – and yes, revenge – and what it costs.
Is it more or less challenging writing your characters rooted in our reality?
Both have their challenges. With fantasy or sci-fi, you have a lot to remember. You have to think up the rules and keep them consistent throughout the story. You have to worry about things making sense.
With reality based settings, you have to double check your facts, and triple check your assumptions. You don't want to describe a place only to find out that it's not anything like you've said. If tattoos are illegal in a certain state (which, sadly, they are), then you can't have someone getting inked at a shop on a Saturday.
Now to some more random questions:
What are you reading right now?
I feel awful saying this, but: my own books. I'm knee deep in editing Meridian for my editor and doing edits on Sing Down the Stars so my agent can send it out on submission. Doing two storylines, in two different voices, from two different POV's, doesn't leave a lot of room for me to concentrate on another book.
However, I'm smack in the middle of Daughter of Smoke and Bone and I want to get back to it ASAP, and Amazon is taunting me with reminders about The Eternity Cure. Once June rolls around, I'll be diving into Siege and Storm.
Is there a character or book you wish you had written?
Books are so much a part of the person who writes them, that it's impossible to answer this. If I were to wish, I'd wish for a novel with atmosphere and heart, that had mass appeal and characters so vibrant they could step off a page and read with you.
And as a special treat, here's the first page of Josin's upcoming book Premeditated:
Killing someone's easier than you think. All it takes is decision, aim, and follow through. Like basketball, only you shouldn't expect people to leap to their feet and cheer if you hit the free throw.The whole thing's a done deal in a matter of seconds.

Revenge, on the other hand, and I mean real, calculated, make-him-sorry-he-was-ever-born vengeance, takes time and planning and patience. You have to smile when you want to scream. You have to look your target in the eye when you'd rather claw his eyes out. And you have to ignore the slow spreading burn in your gut until it turns to ice, and sets your resolve so completely, you can't turn away without splintering.

Do it right, and their blood will be on their own hands. Just another tragic teen suicide buried on the back of page three with a memorial sheet in the school annual. Lots of flowers, and stuffed animals, and card collages stuck to the door. Pretty words and puffy, red-rimmed eyes from people who question "why," but don't look hard enough to find out. No matter how messy it gets, or how much blood's involved, suicide's a clean kill.

Though, any scenario ending with Brooks Walden in a mangled heap would have worked for me.
About the Author

Josin L. McQuein was born and raised in Texas and can trace every place she's lived in by the movies that were filmed there. She currently lives with three crazy dogs in a town so small that the buffalo outnumber the people and things like subways and consistent internet service are creations of that far away fantasy land called "Civilization."
Find her on Twitter, Goodreads and her Blog
Arclight is out now and Premeditated releases October 2013
Related Posts:
Review of Arclight