Today I have Kelsey Sutton, author of Some Quiet Place on the blog. I was initially drawn to her book because the cover and title are just entrancing. Once I started reading I fell in love with the characters, especially Fear, and knew that I had to have Kelsey on the blog.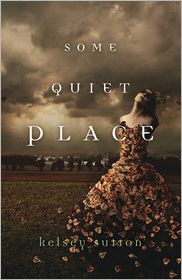 In Some Quiet Place the main character Elizabeth Caldwell is unique in that she does not feel any emotions, but she sees them personified. Was it challenging to write an emotionless character but still have the readers relate and care for her?
Thanks for having me, Kristen! And actually, writing Elizabeth's voice came naturally. Whatever inconsistencies showed up in the manuscript were easy to revise later on. As to having readers relate and care for her, I think it's going to be different for everyone. Some readers have told me that they completely lost themselves in Elizabeth's head, while others were unable to connect at all. But I'm happy I managed to succeed at all, because that was a concern of some editors who read it during submission.
Out of the emotions Fear is present the most and is such an intoxicating character—my personal favorite. Did anything in particular inspire his persona (and I love that his breath smells of strawberries and terror!)?
Haha, thanks. I love to hear that; welcome to the Fear Fan Club. (Yes, there is one.) And no, nothing inspired Fear. From the first page he was there, demanding and infuriating and charming. He was just fully-formed, strawberry breath and all. Which is very weird, I realize, but somehow sexy.
As a writer, do you create your characters or their world first?
The characters came first, technically. During the first draft I had no idea where the novel was going, I just had that first scene with Fear and Elizabeth to go off of. Then Elizabeth's family came, then Maggie, and so on. After a couple scenes, the characters and the world kind of formed together.
Can we expect other books in this world?
Yes, definitely! A companion novel set in the same world will be released next summer. Completely different characters, completely different setting, but same rules apply. I can't say too much about it, but I'm excited because it's new territory for me. This character feels so much that it's crippling, and strangely enough, I find that more challenging than one who feels nothing at all.
Have you considered writing a novella, maybe from Fear's POV?
You know, I've been getting that question more and more as people read SOME QUIET PLACE, and I'd never thought about it before. It might be something I have to try someday. Because, come on, writing from Fear's point of view? How fun would that be? Disturbing, but fun.
Some questions on writing:
Some Quiet Place is your first novel, how does it feel to be published?
At first, surreal. But now it's pretty much amazing. The fact that people are out there, able to read my words? Amazing and humbling. I know the story won't impact with everyone, and that's okay. If it just affects one person, I'll feel utterly accomplished.
What's the most surprising aspect of the whole experience?
That's a tough question, since this is all so new. I guess I would have to say the enthusiasm so far! The submission process was really long and difficult, and I think I started to lose faith in the story and my own abilities. But then Brian Farrey-Latz changed all that when he e-mailed Beth and expressed how much he loved the book and how badly Flux wanted it. Ever since then people have been so excited, and my faith was restored. Corny but true.
Have you always wanted to be a writer?
Always. I have a plastic bin full of the stories I wrote when I was little, horrible pictures and all. Then in high school I'd write instead of taking notes during class. Not saying I'm proud of that, I was just that desperate to create characters and other worlds. Eventually I did manage to finish a novel, though it was quite horrible. It was also about vampires. Yes, I went through the Twilight thing with everyone else in the world. But I kept writing, and got to the point where I could write SOME QUIET PLACE.
And now some random questions:
What are you reading right now?
I'm one of those weird people that starts a bunch of different books and finishes one when it pulls me in. Right now I'm working on The Butterfly Clues by Kate Ellison, Clockwork Princess by Cassandra Clare, and probably seven others! All of them YA.
Is there a book or character you wish you would have written?
Love this question! And an impossible one. There are so many good books out there… I would have to say A Great and Terrible Beauty by Libba Bray. Every time I read it, I'm in awe. Also a little jealous.
Again, thanks for having me! This was a fun interview.
Thanks Kelsey!
Read my review of Some Quiet Place
Enter to win a copy of Some Quiet Place (international giveaway if Book Depository ships to your location)
a Rafflecopter giveaway