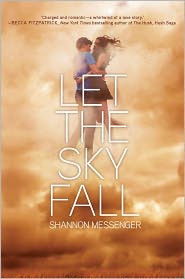 Let the Sky Fall
By: Shannon Messenger
Release Date: March 05, 2013
Publisher: Simon Pulse
My Rating:

Summary (via jacket copy):
Vane Weston should have died in the category-five tornado that killed his parents. Instead, he woke up in a pile of rubble with no memories of his past- except one: a beautiful, dark-haired girl standing in the winds. She's swept through his dreams ever since, and he clings to the hope that she's real.
Audra is real, but she isn't human. She's a sylph, an air elemental who can walk on the wind, translate its alluring songs, even twist it into a weapon. She's also a guardian- Vane's guardian- and has sworn an oath to protect him at all costs.
When a hasty mistake reveals their location to the enemy who murdered both their families, Audra has just days to help Vane unlock his memories. And as the storm winds gather, Audra and Vane start to realize that the greatest danger might not be the warriors coming to destroy them, but the forbidden romance growing between them.
The Story:
Let the Sky Fall had me interested immediately. The dual point of views of Audra and Vane gave me insight into what both were feeling and I enjoyed seeing the story unfold from both of their eyes. I enjoyed the aspect of the sylph/air elemental being the supernatural creature in this book though the basic story arc was pretty typical of a young adult paranormal romance. I was impressed with how creative Messenger was with explaining all the types of sylphs and their abilities. The story itself moves rather slowly but its a fast read regardless. You have a sense of urgency but its not stressful or very intense. When the climax finally happened it was a tad underwhelming and not all that surprising to me.  It's one of those reads that you want to snuggle up in bed and read in an evening.
The Characters:
For the most part I liked Vane and Audra. Audra's angst was a little too much at times but its not unrealistic that she would be like that but her whining sort of grated on me. Messenger did a good job at giving Vane a realistic male voice, as he focused on Audra's appearance about as much as I would aspect a teen guy to. He was a genuinely nice guy that was likeable and had some pretty funny lines. Some of the parental interactions rang false to me being a mom myself. Mild spoiler: Vane's adoptive mother's eager acceptance seemed a bit too easy and honestly I could have done without her even knowing any of what was going on with him. End Spoiler As for the romance between Vane and Audra it was believable and built up nicely but for some reason I just wasn't overly moved by it–thinking it was more me than the writing? I'm not sure why that was.
Final thoughts:
I will read the sequel and I look forward to where Messenger takes Audra and Vane in the next book.
Let the Sky Fall book trailer:

Buy this book:
Amazon

Barnes and Noble