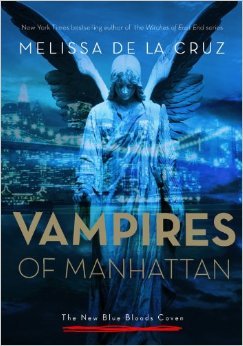 Vampires of Manhattan
By: Melissa De La Cruz
Release Date: September 9th 2014
Publisher: Hyperion Books
Source: Publisher
Format: Finished Copy
This is considered to be New Adult so there are some mature scenes. I am new to this series and have no prior knowledge of the characters or story line so my review is rather vague for fans of the series.
A copy of this book was provided by the publisher- this did not change my rating or review.

My Rating:

Summary:
The Vampires of Manhattan is "hipster horror"–the memorable characters from her Blue Bloods series are older and cooler than before, trying to build "Millennial" lives in the bustle of Manhattan while battling forces of evil and, of course, each other.
Hero of this sexy, paranormal action tale is Oliver Hazard-Perry, former human conduit, and Manhattan's only human-turned-vampire, now the head of the Blue Bloods Coven. When his all-too-human lover is found murdered on the eve of the coven's annual Four Hundred Ball–a celebration meant to usher in a new era in vampire society, and to mark the re-unification of the Coven after decades of unrest and decay–Oliver is devastated.
Now, not only is he trying to create a new world order for the immortal elite, he's the prime suspect and is stalked by the newly installed head of the vampire secret police. Because according to the new rules, vampires who take human life can now be executed. Burned.
How can an immortal sentenced to die fight back? He has to find the killer–and the answers lie deep in vampire lore.
The Story:
I have never read the Blue Bloods series nor had I heard of Vampires of Manhattan prior to receiving a copy in the mail. It was pretty great timing since I've been rather stressed so a vampire book was what I needed.
De La Cruz's writing was fast paced and simplistic though entertaining. I was drawn into the story though I had no knowledge of the world or characters. I know that I missed a lot because of being a newbie but it was still enjoyable. I found myself lost on many points because there are a lot of references to the ending of the Blue Bloods series. Surprisingly, I was able to grasp the general world and concept though I felt in the dark for some aspects. Somehow it was okay to not know exactly the history of the world and just go with it.
This story revolves around a central investigation so it had the feel in some ways to a detective story and that was my favorite aspect. I enjoyed the idea behind vampire secret police and was curious as to what was causing havoc in a world that should be peaceful. The major plot and climax of the story was a bit of a let down but I'm thinking that someone with a history with this world and characters would have a much deeper feeling than I did.
The Characters:
From what I could tell most of the characters were present in the original series and we are revisiting their lives years after the final showdown. I had zero knowledge or attachement to the cast of characters but I did find that I enjoyed them generally speaking. Since this was written as a follow-up there wasn't a ton of character development but I still grew attached to Ara and Edon. The other characters had moments but I was most interested in the central investigation.
I was least interested in Oliver and Finn though a good amount of the story revolved around them. Even though they were my least favorite I wasn't bored with their story line and still found their sections fast paced. I had the feeling while reading that fans of the series would be very happy to see old characters return and see how relationships have changed over the years.
Final Thoughts:
I found Vampires of Manhattan surprisingly entertaining even with my lack of knowledge about the series. I am confident that fans will be happy to revisit favorite characters and see how they have changed. For a newbie like myself the book succeeded decently well on its own though I knew I was missing a lot of references. I also felt that the world and characters were less developed than I typically enjoy but this was understandable. Overall, VoM was fast paced, entertaining and a light read.