With A Torch Against the Night fast approaching I decided that I would reread AEITA and I'm so glad that I did! I loved it just as much the second time as I did the first. I thought I'd go check out my first review- repost it here and see if I still agree! I first read Ember back in 2014 so I really needed a refresher. I'd forgotten some of the most basic of facts about the book and characters (like that they wore silver masks- OOPS. How could I have forgotten that!?)
Any little updates or tidbits will be added in orange
Revisiting my Review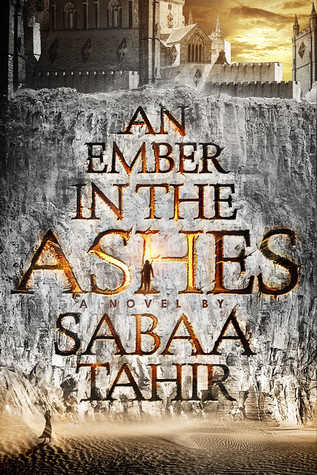 An Ember in the Ashes
By: Sabaa Tahir
Release Date: April 28th 2015
Publisher: Razorbill
Format: ARC
Source: Borrowed from Jon from Bookish Antics then was gifted a copy from the lovely Stacee at Adventures of a Book Junkie
My Rating:

 <– I still feel the same
Summary:
Set in a terrifyingly brutal Rome-like world, An Ember in the Ashes is an epic fantasy debut about an orphan fighting for her family and a soldier fighting for his freedom. It's a story that's literally burning to be told.
LAIA is a Scholar living under the iron-fisted rule of the Martial Empire. When her brother is arrested for treason, Laia goes undercover as a slave at the empire's greatest military academy in exchange for assistance from rebel Scholars who claim that they will help to save her brother from execution.
ELIAS is the academy's finest soldier— and secretly, its most unwilling. Elias is considering deserting the military, but before he can, he's ordered to participate in a ruthless contest to choose the next Martial emperor.
When Laia and Elias's paths cross at the academy, they find that their destinies are more intertwined than either could have imagined and that their choices will change the future of the empire itself.
Vow your blood and body to the empire.
My Thoughts:
From the moment I saw the cover and read the summary of this book I fell in love. I made it my mission to somehow get a copy to read and thankfully a wonderful friend was nice enough to lend me theirs. Even from the first page I knew my instant attraction to this novel was going to blossom into love. Tahir's writing was clean, crisp, descriptive and incredibly emotional. So impressed with how much emotion and feeling Tahir invokes in each word and sentence.
This book was epic in storytelling and scale. There are so many intricacies and depth to the characters and world. So many little details are thrown in and yet they don't bog down the story-telling. I felt that it was all explained simply and with little to no info-dump. This was a pretty miraculous fete since this was a complex world. As the story unfolds you begin to see more and more about the world's history and why things are divided by class as they are.
This novel touched on enslavement, murder, duty and honor. I really noticed how brutal this world was upon my reread. I think I mentally glossed over some things the first time. I was impressed that Tahir was able to show so many aspects of her world with just two view points, Elias and Laia. The story alternates between the point of views every chapter giving the reader a look into both sides.
The characters really drove the story for me. I felt Laia's pain and drive to save her brother from imprisonment. Her struggle seemed real to me. I felt that her drive mixed with her guilt gave her character an appreciated depth. The level of character growth she experienced over the course of the novel had me loving her even more and cheering for her. Elias was such a complex character and I tended to enjoy his POV just a tiny bit over Laia's. I loved both but I felt Elias' voice to be a bit more compelling because of his immense guilt and struggles with his duty vs. what his heart wants. I still enjoyed Elias' POV a tiny bit more but I do think I might appeicate Laia even more. This time I really could grasp the horror of what she was doing and see the bravery it took.
The world that Tahir has created was brutal and hard to read about in many sections. There are mentions of rape, abuse and all the ugly elements of what some humans are capable of. I found it disturbing, but for me, it didn't detract from the story but helped to cement my hate for the Empire. Yep. I still felt the same- but boy some aspects are so hard to read.
So far it hasn't been announced if there will be a sequel and if there isn't I'll be distraught. The book works as a standalone but it left so much unanswered that I need to read more about. I must have more from these characters and world. SO thankful there IS a sequel.
Final Thoughts:
I had really high hopes for An Ember in the Ashes and was not disappointed at all. This book is a favorite and I'll be reading anything Sabaa Tahir writes. Hopefully, the next thing I read from her will be the sequel.
Have you read An Ember in the Ashes? If not are you planning on reading it and if you have read will you reread prior to A Torch Against the Night releasing?