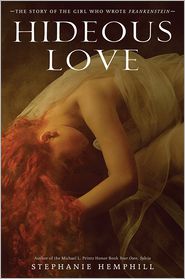 Hideous Love: The Story of the Girl Who Wrote Frankenstein
By: Stephanie Hemphill
Release Date: October 1st 2013
Publisher: Balzer + Bray
Pre-order:
Amazon

Barnes and Noble
I received this book from the publisher in exchange for a honest review
Rating:

Summary (via Goodreads):
An all-consuming love affair.
A family torn apart by scandal.
A young author on the brink of greatness.
Hideous Love is the fascinating story of Gothic novelist Mary Shelley, who as a teen girl fled her restrictive home only to find herself in the shadow of a brilliant but moody boyfriend, famed poet Percy Shelley. It is the story of the mastermind behind one of the most iconic figures in all of literature: a monster constructed out of dead bodies and brought to life by the tragic Dr. Frankenstein.
Mary wrote Frankenstein at the age of nineteen, but inspiration for the monster came from her life-the atmospheric European settings she visited, the dramas swirling around her, and the stimulating philosophical discussions with the greatest minds of the period, like her close friend, Lord Byron.
This luminous verse novel from award-winning author Stephanie Hemphill reveals how Mary Shelley became one of the most celebrated authors in history.
My Thoughts:
Hideous Love is written in verse, which after hearing that, I was a tad nervous about. Honestly, that aspect didn't bother me as much as I feared. I can in no way gage how well Hemphill accomplished verse since I have no formal education or experience in it. I will say that it wasn't my favorite writing style only because I found the characters hard to relate to. I think that if it had been written as a traditional novel I might have connected deeper and possibly understood their motivations more.
This novel gave me insight into a literary figure I had never considered or read about, Mary Shelley. It was evident that Hemphill did extensive research on Mary, her life and those she surrounded herself with. I found her story tedious at times and her decisions lacking in common sense. Her love and devotion to a man that I felt was unworthy of her affections grated on me as I read and I was constantly frustrated in what she put up with and her lack of self worth.
I found the entire reading experience depressing and the loss of so many of her children hard to read. I could completely understand how someone that had lived through what Mary had being capable of writing the classic Frankenstein.
I was never capable of understanding or feeling the connection or affection Mary held for her poet. He seemed distant, cruel at times, and overall an arrogant man. I'm not sure if I felt the way I did because of the writing technique or not.
Final Thoughts:
Reading Hideous Love was an interesting experience though not positive for me. I found Mary's decisions questionable and impossible to relate to. My lack of connection to the characters and their affection for each other could be due to the novel being written in verse since it was impossible to get any semblance of a well rounded character.