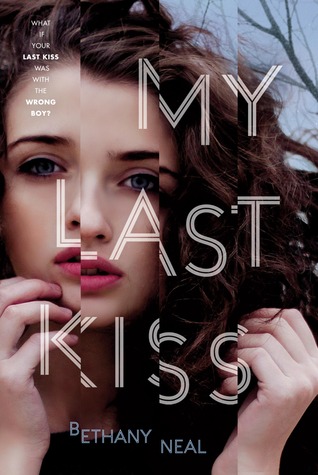 My Last Kiss
By: Bethany Neal
Release Date: June 10th 2014
Publisher: Farrar, Straus and Giroux
Source: ARC from Publisher
A copy of this book was given to me by the publisher in exchange for an honest review.
My Rating:

Summary:
What if your last kiss was with the wrong boy?
Cassidy Haines remembers her first kiss vividly. It was on the old covered bridge the summer before her freshman year with her boyfriend of three years, Ethan Keys. But her last kiss–the one she shared with someone at her seventeenth birthday party the night she died–is a blur. Cassidy is trapped in the living world, not only mourning the loss of her human body, but left with the grim suspicion that her untimely death wasn't a suicide as everyone assumes. She can't remember anything from the weeks leading up to her birthday and she's worried that she may have betrayed her boyfriend.

If Cassidy is to uncover the truth about that fateful night and make amends with the only boy she'll ever love, she must face her past and all the decisions she made–good and bad–that led to her last kiss.
Bethany Neal's suspenseful debut novel is about the power of first love and the haunting lies that threaten to tear it apart.
My Thoughts:
My Last Kiss was a highly entertaining yet heartbreaking thriller. We follow our main character, Cassidy, as she tries to put the pieces of her death together because she has no memory of what happened the weeks prior. The story wastes no time throwing us into our main character's ghost existence and I was immediately curious as to what happened to her that last night and weeks leading up to it.
Though Cassidy is a complex character that doesn't always behave in a way I respect I empathized with her and could understand why she acted the way she did. I felt that Neal did a great job in giving us a main character that was flawed and relatable. I loved seeing glimpses of the other characters through Cassidy's eyes as a ghost and then in her flashbacks. It was a lot of fun, and at times stressful, to watch the sides line up to put the puzzle together. Though I could see things start to line up I remained interested in seeing the whole night of Cassidy's death reenacted.
The other characters were hit and miss for me. One of Cassidy's best friends Aimee was highly relatable and likeable. I rooted for her and she really pulled on my emotions with how she was taking the story's events. Another character that resonated wonderfully for me was Cassidy's boyfriend, Ethan. I loved the memories of how the two of them started dating and thought he was sweet and very realistic.
The characters that did not work for me were some of the other secondary characters that seemed more shallow. I never fully felt the emotions behind their actions.
As for the mystery in this book I was able to see some aspects fairly early on but I didn't have it completely figured out until the end. It was easy for me to see clues that Neal left in descriptions and dialog to help tip the reader off in the direction mystery was taking. I enjoyed following these and seeing how Neal worked them into the greater plot and made my noticing them meaningful.
Final Thoughts:
Blythe Harris from Finding Bliss in Books nailed it when she described this book as The Lovely Bones meets Pretty Little Liars in her Goodreads review. I really can't describe it any better than she did. Neal has written a strong thriller that was fast paced and kept my interest.