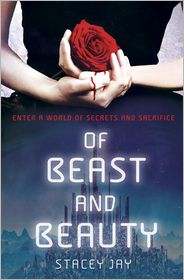 Of Beast and Beauty
By: Stacey Jay
Release Date: July 23, 2013
Publisher: Delacorte Press
Purchase:
Amazon

Barnes and Noble
My Rating:

Summary (via Goodreads):
In the beginning was the darkness, and in the darkness was a girl, and in the girl was a secret…
In the domed city of Yuan, the blind Princess Isra, a Smooth Skin, is raised to be a human sacrifice whose death will ensure her city's vitality. In the desert outside Yuan, Gem, a mutant beast, fights to save his people, the Monstrous, from starvation. Neither dreams that together, they could return balance to both their worlds.
Isra wants to help the city's Banished people, second-class citizens despised for possessing Monstrous traits. But after she enlists the aid of her prisoner, Gem, who has been captured while trying to steal Yuan's enchanted roses, she begins to care for him, and to question everything she has been brought up to believe.
As secrets are revealed and Isra's sight, which vanished during her childhood, returned, Isra will have to choose between duty to her people and the beast she has come to love.
The Story:
Of Beast and Beauty is a incredibly creative, bold and entrancing retelling of the classic Beauty and the Beast. Jay takes the classic elements and turns them on their head yet is able to keep the magic and fairy tale quality with a dash of science fiction.
The pacing was fast and as the story progressed I felt anxiety as I turned the pages, worried about the outcome and how Jay would wrap up her tale in the remaining pages. Not only was the story engaging the writing was eloquent and beautifully done. This book impacted me and I felt anger, love, fear…a mix of emotions leaving me easily wordless.
The Characters:
I have always been a fan of Beauty and the Beast. I never gave the story much thought but loved the idea of a grisly, frightening 'beast' being so much more. Jay was able to capture that aspect but also give her 'beauty' a depth I'm not sure has been achieved in other retellings.
Isra had a mountain of obstacles stacked against her and yet she was bold and brave. Though she is blind she didn't let that stop her from finding ways to achieve the outcomes she desired. I also thought it was incredibly interesting to follow a blind main character since we didn't get descriptions in the normal way. She couldn't see the secondary characters so we learned about their characteristics slowly and I loved seeing them form in my mind as I read.
Jay writes from different character's view points, Isra, Bo and Gem, giving us a well rounded look at the story. Gem had a wonderful voice and I really enjoyed seeing his internal battle play out. I felt that Jay did an excellent job giving each of her characters a unique presence and I never felt confused on who's view I was reading.
Final Thoughts:
I had heard many wonderful things about Of Beast and Beauty prior to reading and I can confirm it was beautifully executed. Jay created and extraordinary retelling/reworking of a classic giving the characters unexpected depth. Not only were the characters vivid the story was entrancing.