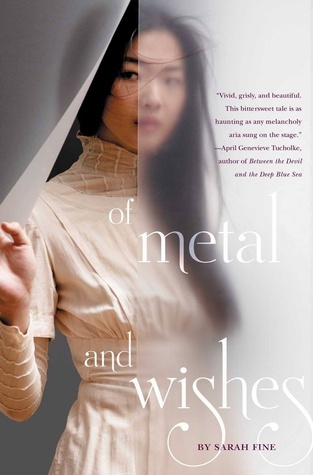 Of Metal and Wishes
By: Sarah Fine
Release Date: August 5th 2014
Publisher: Margaret K. McElderry Books
Format: Finished Copy
Source: Purchased
My Rating:

Summary:
There are whispers of a ghost in the slaughterhouse where sixteen-year-old Wen assists her father in his medical clinic—a ghost who grants wishes to those who need them most. When one of the Noor, men hired as cheap factory labor, humiliates Wen, she makes an impulsive wish of her own, and the Ghost grants it. Brutally.

Guilt-ridden, Wen befriends the Noor, including their outspoken leader, a young man named Melik. At the same time, she is lured by the mystery of the Ghost and learns he has been watching her … for a very long time.
As deadly accidents fuel tensions within the factory, Wen must confront her growing feelings for Melik, who is enraged at the sadistic factory bosses and the prejudice faced by his people at the hand of Wen's, and her need to appease the Ghost, who is determined to protect her against any threat—real or imagined. She must decide whom she can trust, because as her heart is torn, the factory is exploding around her … and she might go down with it.
The Story:
Of Metal and Wishes was my first Sarah Fine book and I had heard wonderful praise prior to buying this book. I wasn't let down in the least. This was a beautifully done retelling of Phantom of the Opera with a wonderful otherworldly twist.
The setting wasn't ever 100% clear to me if it was in the future, past or where exactly. The story took place in a relatively small setting but Fine was able to make it immersive and detailed. The slaughterhouse and Wen's father's clinic was easy to imagine and had the cold nature that I would expect in this world she'd created. The vague mentions of the slaughter and lifestyle of the people living in this factory were depressing and disturbing. Though Fine never goes into explicit detail about the nature of the work exactly the idea was expressed and created a very unique and disturbing environment for our story to take place.
We never find out the state of the world and why things are as bad as they are in Gochan 1 but this actually didn't hinder the story or my involvement. I found that the sense of mystery surrounding the history of Wen's world added to the creepiness and overall aura. The aspects that Fine did detail such as the Noor people were done wonderfully.
The Characters:
Of Metal and Wishes had such a strong main cast of characters. I really enjoyed reading from Wen's point of view and felt that she was easy to relate to. I felt that her burning need to figure out what was behind the Ghost was realistic and possibly what I would have done in her place. I really enjoyed her father and the strained relationship between the two of them. Though I disagreed with some of her father's tactics I felt that he was still likeable.
I really enjoyed the romance in this novel because of the slow burn. I never felt that things were rushed and I could feel the chemistry between the characters. I found Melik as a character to be very interesting and I was always eager to learn more about him. I thought he was a perfect match for Wen though everything would suggest they aren't meant for one another.
The Ghost was an intriguing aspect to this story. This next part will contain a bit of a spoiler because it will allude to the Ghost's character. If you want to go into the novel knowing nothing don't read this next paragraph.
Spoiler
I felt that Fine handled him very well because I hated his actions but I always empathized with him and could see the reasoning behind his actions. I did feel that his and Wen's meeting was rushed and could have been fleshed out a bit more. I understood his attachment towards her but struggled some in understanding Wen's. I felt that his mechanical prowess added so much to his personality and character. Overall he was beautifully complex and well done.
End Spoiler
The only bit that I wasn't as fond of in this novel was that the majority of men looked on women as objects. The society was one in which if a woman showed any affection towards a man she was automatically considered open to men groping or abusing her. This was highly disturbing and though I understood this was the society that Wen lived in sometimes it felt a bit like the easy path to create a world where she was in need of saving. I always wondered why she didn't carry some sort of weapon and why her father would let her walk around knowing the type of men she was encountering.
Final Thoughts:
I felt that Of Metal and Wishes lived up the to the praise I'd heard. I loved the writing, character and felt that the romance was beautifully done. This reimagined take on Phantom of the Opera enhanced the overall story and added a wonderful touch. I will be reading more of Sarah Fine's work sooner than later.