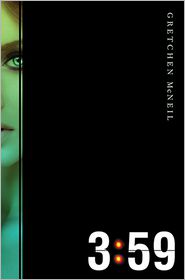 3:59
By: Gretchen McNeil
Release Date: September 17th 2013
Publisher: Balzer & Bray
Purchase:
Amazon

Barnes and Noble
This book was provided by the publisher in exchange for a honest review.
My Rating:

Summary:
Josie Byrne's life is spiraling out of control. Her parents are divorcing, her boyfriend Nick has grown distant, and her physics teacher has it in for her. When she's betrayed by the two people she trusts most, Josie thinks things can't get worse.
Until she starts having dreams about a girl named Jo. Every night at the same time—3:59 a.m.
Jo's life is everything Josie wants: she's popular, her parents are happily married, and Nick adores her. It all seems real, but they're just dreams, right? Josie thinks so, until she wakes one night to a shadowy image of herself in the bedroom mirror – Jo.
Josie and Jo realize that they are doppelgängers living in parallel universes that overlap every twelve hours at exactly 3:59. Fascinated by Jo's perfect world, Josie jumps at the chance to jump through the portal and switch places for a day.
But Jo's world is far from perfect. Not only is Nick not Jo's boyfriend, he hates her. Jo's mom is missing, possibly insane. And at night, shadowy creatures feed on human flesh.
By the end of the day, Josie is desperate to return to her own life. But there's a problem: Jo has sealed the portal, trapping Josie in this dangerous world. Can she figure out a way home before it's too late?
From master of suspense Gretchen McNeil comes a riveting and deliciously eerie story about the lives we wish we had – and how they just might kill you.
The Story:
I had pretty high hopes and expectations for 3:59 because of the synopsis and cover design. Overall, this was an entertaining read but I had some problems with it. The book starts with a good amount of high school drama- boyfriends cheating, best friend betrayals, etc- that sadly didn't interest me.
Once we get into the science fiction aspects the scientific explanations were fairly heavy and wordy leading me to mostly skim over them. Honestly, they felt more like info dumps than anything else. I will say it appeared that McNeil had done a significant amount of research.
As for the twists they were fairly easy to spot early on though this really didn't detract from the fast pacing (once the story really got going). There are a lot of action scenes and the idea behind the book is an interesting one. I loved that the parallel world was only visible at 3:59 so there was the expectation of that time every day and night. It created a really great sense of excitement and tension to the story having such a small window of time when both universes were connected.
The Characters:
Here's where this one really let me down, I never cared for a single character. I knew I was supposed to, but I couldn't muster an ounce of caring for Josie, Nick, Penelope or any of them. I can't say why none of them resonated with me, perhaps it was my mood or the writing style? I just found myself a casual observer of what I read.
Mild Spoiler:
The romance was laughable at certain points–if you've read other reviews you might have seen that there was an awkward make-out scene. After one of the many action scenes our couple finally have their long awaited kiss and it gets fairly passionate. This would have been a great scene if there hadn't been a dead body next to them the entire time. Yes, they were kissing next to a dead body, which they conveniently forgot about (it was dark in the room) until Jo accidently touches it. The entire time I was reading I kept thinking, 'there's a body next to you!' So unrealistic (I hope) and disturbing. Needless to say I wasn't feeling it at all.
End spoiler
Final Thoughts:
I had some issues with 3:59 mostly due to the characters and info dumping but overall it was an entertaining book due to fast pacing and lots of action. I think this book will appeal to many people and if you love the synopsis you should give it a go and see if it's for you.