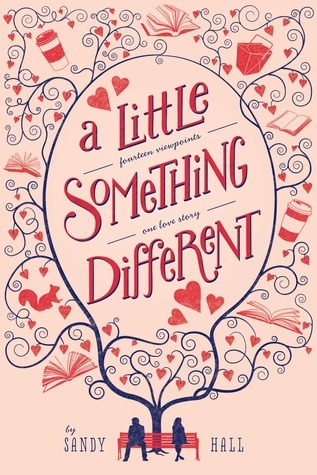 A Little Something Different
By: Sandy Hall
Release Date: August 26, 2014
Publisher: Swoon Reads
Format: Print ARC
Source: Crystal at Crystal in Bookland
My Rating:

Summary:
The creative writing teacher, the delivery guy, the local Starbucks baristas, his best friend, her roommate, and the squirrel in the park all have one thing in common—they believe that Gabe and Lea should get together. Lea and Gabe are in the same creative writing class. They get the same pop culture references, order the same Chinese food, and hang out in the same places. Unfortunately, Lea is reserved, Gabe has issues, and despite their initial mutual crush, it looks like they are never going to work things out. But somehow even when nothing is going on, something is happening between them, and everyone can see it. Their creative writing teacher pushes them together. The baristas at Starbucks watch their relationship like a TV show. Their bus driver tells his wife about them. The waitress at the diner automatically seats them together. Even the squirrel who lives on the college green believes in their relationship.

Surely Gabe and Lea will figure out that they are meant to be together….
My Thoughts:
I'm not usually drawn to reading contemporaries but this one caught my attention (thank you Jon for telling me about it) because of how unique it was to have fourteen different point of views telling one story. I felt that Hall succeeded in using multiple point of views and it made for a unique reading experience, especially reading from a squirrel's point of view. Some of it bordered on silly, like the park bench having a POV but it was still overall an enjoyable read.
Beyond the fun method of how this story unfolds it was rather cute if not a tad frustrating watching two extremely shy people try to navigate their mutual attraction. Gabe and Lea are both likeable though I never did fully get to know their characters. Since we never read from their view point I always felt that I was watching them through a window and never had a deep connection to either of them.
For me, I felt more connected to some of the characters telling the story, like Inga the creative writing teacher. Her perspective was a favorite and I enjoyed pondering if my college professors ever looked for love connections in their classes. A good amount of the point of views blurred together and some were so infrequent it was sometimes hard to remember who they were. Thankfully, each section was labeled with who the person was as well as their connection to the story.
Final Thoughts:
A Little Something Different was just that…a different spin on a typical story. This book was cute, fast paced, entertaining and perfect for a short summer read.