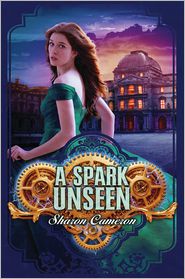 A Spark Unseen (The Dark Unwinding #2)
By: Sharon Cameron
Release Date: September 24th 2013
Publisher: Scholastic Press
Pre-order:
Barnes and Noble

Amazon
A copy was provided by the publisher for being on the blog tour and in exchange for an honest review
Rating:

Please note: this is a sequel so there might be spoilers for book one, The Dark Unwinding. If you've not read the first book my review is here.
Summary (via Goodreads):
When Katharine Tulman wakes in the middle of the night and accidentally foils a kidnapping attempt on her uncle, she realizes Stranwyne Keep is no longer safe for Uncle Tully and his genius inventions. She flees to Paris, where she hopes to remain undetected and also find the mysterious and handsome Lane, who is suspected to be dead.
But the search for Lane is not easy, and Katharine soon finds herself embroiled in a labyrinth of political intrigue. And with unexpected enemies and allies at every turn, Katharine will have to figure out whom she can trust–if anyone–to protect her uncle from danger once and for all.
The Story:
A Spark Unseen picks up two years after The Dark Unwinding. Lane has been absent and Katharine is caring for Uncle Tully and the estate. Cameron continues in the same fashion as her prior novel: eloquent writing, well researched material and compelling subject matter.
As with The Dark Unwinding many plots surround gaining Uncle Tully's intelligence and creative inventions all in the name of politics. Katharine is single minded in her protection of her Uncle and doing what is right by him. I loved the descriptions of Uncle Tully's inventions and how they worked.
Cameron did an excellent job giving the reader insight into the politics of the time and day to day life of her characters. Her descriptions of the buildings and people helped to develop my overall impression of the time period and helped to immerse me into the story.  It was fascinating to read the author notes in the back of the book about what aspects were directly derived from history.
The Characters:
I felt that the story was incredibly strong in this book but I was a bit disappointed in the characters.  Everyone in The Dark Unwinding were so unique it was hard not to love each of them and be completely invested them. Since Katharine and Uncle Tully flee to France we don't get to see these characters as much. One of my favorites and the love interest of Katharine, Lane, is largely absent from the novel. His interactions with Uncle Tully and Katharine were missed.
In the first book Uncle Tully was my favorite character because of his eccentric attitude and genius. Thankfully, he is wonderful in this book too though he only really participates from mid book on.
Katharine has grown even more than she did in The Dark Unwinding and she has blossomed into a wonderful care-taker for her uncle. Her deep affection is evident along with her patience and compassion. I enjoyed her interactions with the society in Paris and especially found her dialog with her aunt's longtime friend entertaining.
With the location change there are many new characters introduced, all of which were interesting. As stated prior though, I never cared for them as much as the old cast of characters. Katharine is single minded in her mission and closed off to the people she interacts with. This was felt by me as I read and affected my connection to the secondary characters.
Final Thoughts:
Sharon Cameron has a beautiful writing style which is well researched, elegant and vivid in its descriptions. I fell in love with the characters in The Dark Unwinding and mourned their less frequent roles in this new novel though I enjoyed the story and Katharine's growth and determination.
Extras:
Read my interview with Sharon Cameron
Read my review of The Dark Unwinding
Be sure to check out my stop tomorrow on the A Spark Unseen Blog Tour!
A Spark Unseen book trailer: