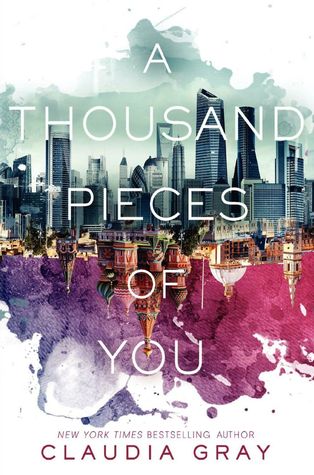 A Thousand Pieces of You
By: Claudia Gray
Release Date: November 4th 2014
Publisher: HarperTeen
Format: Finished Copy
Source: Publisher
A copy of this book was provided in exchange for an honest review.
My Rating:

Summary:
Marguerite Caine's physicist parents are known for their radical scientific achievements. Their most astonishing invention: the Firebird, which allows users to jump into parallel universes, some vastly altered from our own. But when Marguerite's father is murdered, the killer—her parent's handsome and enigmatic assistant Paul—escapes into another dimension before the law can touch him.
Marguerite can't let the man who destroyed her family go free, and she races after Paul through different universes, where their lives entangle in increasingly familiar ways. With each encounter she begins to question Paul's guilt—and her own heart. Soon she discovers the truth behind her father's death is more sinister than she ever could have imagined.
My Thoughts:
Overall I found this to be a very entertaining book that was fast paced and a great start to a series. Gray's writing, as usual, was easy to become immersed in. I really enjoyed how Gray presented her dimensional travel and the alternate worlds.
I felt that the strongest aspect of this book were the alternate realities and how different they were from one another. It was a lot of fun to see the characters adjusting to their surroundings and I also loved that in this book you 'borrowed' the body of your alternate self. I was equally creeped out and intrigued by this notion and what it would mean for the borrowed person.
Have you ever seen The Simpsons episode, Treehouse of Horror, where Homer travels through dimensions only to find one where no one knows what a donut is only to find out that their rain consists of donuts? It's silly but some of the alternate worlds brought this to mind. Many things would be changed but people were still interacting with each other in similar ways. It was an intriguing notion that kept me thinking.
I found myself questioning many things, such as the ethics of inter-dimensional travel, which was a nice surprise. I loved this element of the story because Gray had presented things so well that I found myself pondering if it was possible in our reality. I did not feel that there was an overload on the science behind dimensional travel which made it easier to focus on the story at hand.
I enjoyed the characters and found Marguerite a great main character. I thought her devotion to her mission was admirable but I was happy to see her question herself and the impact her actions had on others. There was a love triangle for those that can't tolerate them. I found it fairly obvious who her heart was with pretty early on so it didn't bother me all that much. Gray does present some interesting questions regarding other realities of the same person and how love might translate between dimensions.
So, with all these positives why not five stars? I honestly couldn't say what was lacking but something felt missing for me that I'm unable to put my finger on. I was invested in the story and characters but somehow I was left feeling a bit meh. I found one dimension's story to be far stronger than the other parts of the book (the Russia world) so it might have actually decreased my enjoyment of other parts of the story. I also found it to be a bit easy to predict in parts, especially some of the characters motivations.
Final Thoughts:
I found, on a whole, A Thousand Pieces of You to be a successful book. It was fast paced, emotionally engaging as well as thought provoking. Though it veered a bit on the predictable side to me the exploration of drastically different alternate realities was incredibly interesting and kept me glued to the book.