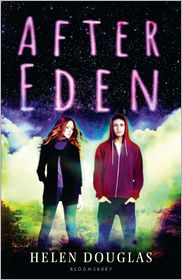 After Eden
By: Helen Douglas
Publisher: Bloomsbury
Release Date: November 5, 2013
Purchase:
Amazon

Barnes and Noble
Thank you Krys for giving me my print arc.
I read After Eden with my reading group (Scott Reads It and On Starships and Dragonwings)
My Rating:

Summary:
Eden Anfield loves puzzles, so when mysterious new boy Ryan Westland shows up at her school she's hooked. On the face of it, he's a typical American teenager. So why doesn't he recognise pizza? And how come he hasn't heard of Hitler? What puzzles Eden the most, however, is the interest he's taking in her.
As Eden starts to fall in love with Ryan, she begins to unravel his secret. Her breakthrough comes one rainy afternoon when she stumbles across a book in Ryan's bedroom – a biography of her best friend – written over fifty years in the future. Confronting Ryan, she discovers that he is there with one unbelievably important purpose … and she might just have destroyed his only chance of success.
The Story:
After Eden started out okay for me. I knew going in from the size of the book (very short) and the premise that it would be more of a light hearted and fast paced read.
I was excited to be reading another book featuring time travel since I've read some really great ones this year. But, as I read further into the book aspects began to annoy me. A lot of my frustration was due to the characters (see below) and transparent plot. I found it very easy to predict the outcome and was able to pick out early on the 'villian' though he/she isn't much of one.
The Characters:
Things really went astray for me concerning the characters, their motivations and actions. I felt that they were all fairly one dimensional and did not have realistic interactions. The friendships rang false and I could never grasp why this group of teenagers even interacted with one another. There was a lot of telling and not so much showing. I read over and over that Eden was best friends with Connor though neither of them treated the other like a best friend. All that I was presented with was jealousy, infatuation and some strange loyalty because they knew each other as children.
The romantic aspect seemed very insta-attraction/love but sort of grew on me as I read. Ryan's character on a whole was poorly crafted and the mistakes he made with cultural knowledge (like not knowing who Hitler or pizza is) didn't seem realistic and I thought could have been presented in a much better and believable way. I understand these things were supposed to tip off our main character at Ryan's strangeness but any number of topics could have been used fulfilling the same result.
Now, on to our main character Eden. She frustrated me the most due to her lack of common sense. This is really nit-picking on my part, but so often she was walking out in the cold or rain having forgotten her jacket or dressed wrong for the season. It could be that I was hyper sensitive because it was yet another example of her inability to use common sense. I felt that as the reader we could see very clearly where the story was headed and I had trouble believing that Eden wouldn't pick up on things a bit faster.
Final Thoughts:
Even with all the issues I had with After Eden I read through the entirety of the book and found entertainment in a good portion of it. I would say it was a very easy read and might appeal to a younger audience.