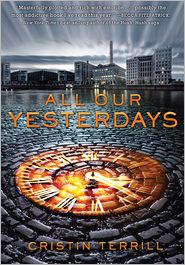 All Our Yesterdays
By: Cristin Terrill
Release Date: September 3, 2013
Publisher: Disney-Hyperion
Pre-Order: Amazon

Barnes and Noble
An arc was provided by the publisher in exchange for an honest review. Thank you Disney-Hyperion
My Rating:

Summary (via Goodreads):
"You have to kill him."   Imprisoned in the heart of a secret military base, Em has nothing except the voice of the boy in the cell next door and the list of instructions she finds taped inside the drain.
Only Em can complete the final instruction. She's tried everything to prevent the creation of a time machine that will tear the world apart. She holds the proof: a list she has never seen before, written in her own hand. Each failed attempt in the past has led her to the same terrible present—imprisoned and tortured by a sadistic man called the doctor while war rages outside.
Marina has loved her best friend James since the day he moved next door when they were children. A gorgeous, introverted science prodigy from one of America's most famous families, James finally seems to be seeing Marina in a new way, too. But on one disastrous night, James's life crumbles apart, and with it, Marina's hopes for their future. Now someone is trying to kill him. Marina will protect James, no matter what. Even if it means opening her eyes to a truth so terrible that she may not survive it. At least not as the girl she once was.
The Story:
I've not read many books centered on time travel but the good ones challenge my thinking; keeping me invested in what consequences an action in the past will have on the future.  Time travel is an intriguing concept that is incredibly difficult to do well. Cristin Terrill manages to do an outstanding job with her novel All Our Yesterdays. She kept the science simplified, keeping it manageable for a young adult audience but not so much that it would not appeal to an older audience.
I loved Terrill's ability to transport the reader through time using the point of view of a character in the past and another in the present. The pacing was fast and I felt a distinct sense of urgency as I read that mirrored the character's. I won't go into too much detail about the actual story arc because All Our Yesterdays is best experienced as you read it.
The Characters:
Terrill's main character Em was instantly likeable to me and I felt attached to her and her situation. I was enthralled with what she did to end up imprisoned and who she was talking to in the next cell. What was their history? I felt Em's connection to her cell-mate and felt her frustration and desire to keep him safe.
Marina is written as a naïve, sheltered, and wealthy teenager who is desperately in love with her neighbor and best friend, James. Suffering from a low self esteem Marina holds her feelings close; waiting until the perfect moment to finally tell James how she has felt. Even with her faults I was able to connect to and understand her motivations and unease with how her feelings had developed and changed. I felt that Terrill developed and progressed her character realistically and at a pace that was appropriate for what she was experiencing. I could even understand her jealously and unjustifiable dislike of James' newest friend, Finn.
Finn was a wonderful foil to James and Marina, where they are serious he is able to summon a sense of joviality that his situation does not merit.  I loved his snarky comments and his soft hearted nature, making him the purest of the characters.
I felt James' intensity and intelligence which is impressive since he is a secondary character. Though I disagreed with his actions for the most part I could understand his motivations and reasoning. Terrill created a cast of characters that are well rounded, developed and realistic.
Final Thoughts:
All Our Yesterdays is simply one of the best books I've read this year. I loved Terrill's characters and ability to carry me through her story-telling.
Look for All Our Yesterdays by Cristin Terrill out September 2013 released by Disney-Hyperion