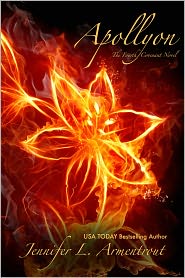 Apollyon (Covenant 4)
By: Jennifer Armentrout
Release Date: April 9, 2013
Publisher: Spencer Hill Press
My Rating:

If you haven't read Elixir, a novella that is from Aiden's POV that takes place between Deity and Apollyon, now is the time to do it!
Summary (via Goodreads):
Fate isn't something to mess with… and now, neither is Alex.
Alex has always feared two things: losing herself in the Awakening and being placed on the Elixir. But love has always been stronger than Fate, and Aiden St. Delphi is willing to make war on the gods—and Alex herself—to bring her back.
The gods have killed thousands and could destroy entire cities in their quest to stop Seth from taking Alex's power and becoming the all-powerful God Killer. But breaking Alex's connection to Seth isn't the only problem. There are a few pesky little loopholes in the whole "an Apollyon can't be killed" theory, and the only person who might know how to stop the destruction has been dead for centuries.
Finding their way past the barriers that guard the Underworld, searching for one soul among countless millions, and then somehow returning will be hard enough. Alex might be able to keep Seth from becoming the God Killer… or she might become the God Killer herself.
My Thoughts:
The story picks up with Alex being awakened and connected to Seth, this makes her 'Evil Alex.' She is kept imprisoned to keep her and everyone else safe since her emotions and actions are not her own, she is more Seth than Alex. Jennifer Armentrout's books always have a fast pace and never cease to entertain. Between the witty dialog and fast paced action scenes her books make for fast reads. As a whole Apollyon delivers; the beginning third of the book dragged for me but as I got deeper into the action I was more immersed.  I actually found a lot of the fighting in this book more engaging than I have in the other books. Alex awakened is really amazing in a fight.
Akasha ripped from me, arcing through the air like cloud-to-cloud lightening, homing in on its target and striking true.
The Characters:
Alex has really grown and matured through the progression of the series. She actually thinks before she takes action or speaks; she's as surprised as the reader by her changes. She has embraced her responsibly as the Apollyon and has started to realize the important role she has.
I was a tad bit disappointed we didn't have more Seth. I have finally lost my battle with denial and admit he's on the bad guy's team, but I still love his snarky, egotistical attitude. I think Seth and Alex's interactions drove a good amount of my enjoyment in the previous books. But for Aiden fans this book will make them exceedingly happy; Armentrout really builds on Aiden and Alex's relationship.
Final Thoughts:
Another engaging installment in the Covenant series, Apollyon sets the stage for an exciting final book, Sentinel.