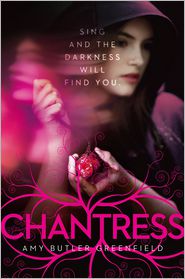 Chantress (Chantress #1)
By: Amy Butler Greenfield
Release Date: May 7, 2013
Publisher: Margaret K. McElderry Books
My Rating:

The Summary (via Goodreads):
Sing and the darkness will find you.
Shipwrecked on an island seven years ago, Lucy has been warned she must never sing, or disaster will strike. But on Allhallows' Eve, Lucy hears tantalizing music in the air. When she sings it, she unlocks a terrible secret: She is a Chantress, a spell-singer, brought to the island not by shipwreck but by a desperate enchantment gone wrong.
Her song lands her back in England — and in mortal peril, for the kingdom lies in the cruel grasp of a powerful Lord Protector and his mind-reading hunters, the Shadowgrims. The Protector has killed all Chantresses, for they alone can destroy the Shadowgrims. Only Lucy has survived.
In terrible danger, Lucy takes shelter with Nat, a spy who turns her heart upside-down. Nat has been working with his fellow scholars of the Invisible College to overthrow the Lord Protector, and they have long hoped to find a living Chantress to help them. But Lucy is completely untrained, and Nat deeply distrusts her magic. If Lucy cannot master the songspells, how long can she even stay alive?
Beguiling and lyrical, dangerous and romantic, Chantress will capture readers in a spell they won't want to break
The Story:
Overall Chantress was an enjoyable read for me. It was fairly slow paced but this made for a relaxing read. I was able to comfortably sink into the story without feeling overly anxious or stressed until the very end of the book. A good amount of Chantress focuses on Lucy's journey to figure out who she is and what her powers are. Though our heroine faces a very real threat for the most part I felt like our characters were safe. I desperately wanted to see the Shadowgrims in action and hoped they would strike more fear into me as I read.  I appreciated that there weren't any closely held secrets within the book, the answers I wanted I received and fairly quickly.
The Characters:
Greenfield fills Chantress with likeable characters though they aren't incredibly memorable. Lucy, our main character, grows significantly throughout the novel, gaining confidence. I was eager to learn more of our villain, such as a clearer view of his motives. At one point Lucy is able to venture into his mind and I was hoping she would do this again and learn more about him. I enjoyed the romantic aspects, they were slow to develop so no insta-love or love triangle, a welcome change.
Final Thoughts:
Chantress provides a unique take on fantasy and magic and I look forward to reading the next in the series and hope for a bit of a faster pace and deeper relationship building.