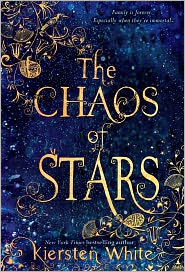 The Chaos of Stars
By: Kiersten White
Publisher: HarperTeen
Release Date: September 10th 2013
Pre-Order:
Amazon

Barnes and Noble
An electronic copy was provided in exchange for an honest review.
My Rating:

Summary (via Goodreads):
Isadora's family is seriously screwed up.
Of course, as the human daughter of Egyptian gods, that pretty much comes with the territory. She's also stuck with parents who barely notice her, and a house full of relatives who can't be bothered to remember her name. After all, they are going to be around forever—and she's a mere mortal.
Isadora's sick of living a life where she's only worthy of a passing glance, and when she has the chance to move to San Diego with her brother, she jumps on it. But Isadora's quickly finding that a "normal" life comes with plenty of its own epic complications—and that there's no such thing as a clean break when it comes to family. Much as she wants to leave her past behind, she can't shake the ominous dreams that foretell destruction for her entire family. When it turns out there may be truth in her nightmares, Isadora has to decide whether she can abandon her divine heritage after all.
The Story:
There were elements of The Chaos of Stars that were very interesting, mostly concerning the Egyptian mythology. Unfortunately, the other aspects were less enthralling and not a lot stood out. The pacing was very slow and this book lacked the action of White's Paranormalcy series. There was never a need for me to rush through the pages seeking the outcome.
I think this might have been a character driven book? I can only assume that one of the goal's of the novel was to show the growth of the main character and to allow the reader to journey with her. There was growth but it was little too late in my opinion and never was enough to make this a truly interesting read for me.
The Characters:
Isadora, the main character, was the biggest fault about this book to me. She started as a spoiled, entitled, whiney and overall dislikeable character. I had no interest in her and struggled through the first forty percent of the book trying to get past my annoyance with her. After that point she started to grow and her character became much more tolerable. I never grew to like her but it was much easier to follow the story in her point of view.
My favorite character was Ry. He, along with the other two main secondary characters Taylor and Scott, were the best aspects of this book. Ry was even capable of making me enjoy Isadora a time or two. He is a well rounded, funny and likeable character.
Final Thoughts:
I was drawn to Chaos of Stars by the beautiful cover art and the premise of a mythology driven plot. I wasn't ever fully immersed in this book and found a lot of it a chore to read. The last bit of the book picked up significantly and I began to become more invested only for the book to end.