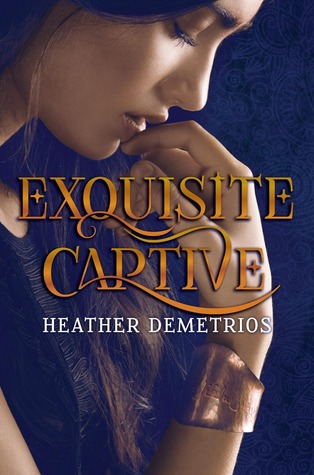 Exquisite Captive
By: Heather Demetrios
Release Date: October 7th 2014
Publisher: Balzer+Bray
Format: Print ARC
Source: Publisher
A copy of this book was provided by the publisher in exchange for an honest review.
My Rating:

Summary:
Forced to obey her master.
Compelled to help her enemy.
Determined to free herself.

Nalia is a jinni of tremendous ancient power, the only survivor of a coup that killed nearly everyone she loved. Stuffed into a bottle and sold by a slave trader, she's now in hiding on the dark caravan, the lucrative jinni slave trade between Arjinna and Earth, where jinn are forced to grant wishes and obey their human masters' every command. She'd give almost anything to be free of the golden shackles that bind her to Malek, her handsome, cruel master, and his lavish Hollywood lifestyle.
Enter Raif, the enigmatic leader of Arjinna's revolution and Nalia's sworn enemy. He promises to free Nalia from her master so that she can return to her ravaged homeland and free her imprisoned brother—all for an unbearably high price. Nalia's not sure she can trust him, but Raif's her only hope of escape. With her enemies on the hunt, Earth has become more perilous than ever for Nalia. There's just one catch: for Raif's unbinding magic to work, Nalia must gain possession of her bottle…and convince the dangerously persuasive Malek that she truly loves him. Battling a dark past and harboring a terrible secret, Nalia soon realizes her freedom may come at a price too terrible to pay: but how far is she willing to go for it?
My Thoughts:
I was excited to read Exquisite Captive because I love the new trend of jinn in young adult fiction. I had pretty high expectations for this book and it provided a good read but wasn't 100% there for me. Something always felt missing, like it was just inches away from being amazing.
The story itself was pretty slow to start focusing a lot of attention telling the reader about the history of the jinn up to this point and Nalia's personal journey to becoming Malek's slave. I wish we could have learned more about the jinn world that Nalia had grown up in since for the most part it felt like information given rather than really expressed emotionally. I wanted to feel immersed but did not. I hope that as the series progresses we get to experience more of jinn world because Demetrios has really created compelling jinn mythology.
Nalia's present story takes place in Hollywood and under Malek's control. Unfortunately, I never connected very deeply to Nalia. I wanted to be invested in her personal journey but it didn't happen. I think because of this I was disconnected to a good amount of this book. I could see myself becoming more and more invested in her as the series continues but it fell rather flat for me in this first book. I think the slow beginning had a good amount to do with that.
I thought that Demetrios tried to give Malek a multi-layered personality and history. I wished that the love interest aspect between him and Nalia hadn't been present or done differently. I think it could have been done successfully and taken away from the love triangle feel. Regardless, Demetrios made it work in the end and built up a history between the two characters that should provide a lot of interesting scenes and interactions in the future.
The other romance, between Nalia and Raif, was incredibly typical for young adult- they meet, bicker and fall in love incredibly fast. I thought that since so much of the emotional appeal of this book relied on the reader feeling the chemistry and love between Nalia and Raif Demetrios should have worked further in giving them scenes together. I felt that their entire relationship was rushed.
Final Thoughts:
Though Exquisite Captive fell short of being an amazing read for me I felt that the building blocks have been put into place for me to enjoy the upcoming books much more. I hope that with the next installment I can connect with the main character.