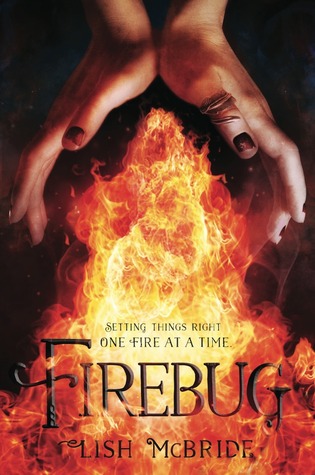 Firebug
By: Lish McBride
Release Date: September 23rd 2014
Publisher: Henry Holt and Co.
Format: Print ARC
Source: Publisher
A copy of this book was provided by the publisher in exchange for an honest review.
My Rating:

Summary:
Ava can start fires with her mind . . . but is it a blessing or a curse?
Ava is a firebug—she can start fires with her mind. Which would all be well and good if she weren't caught in a deadly contract with the Coterie, a magical mafia. She's one of their main hit men . . . and she doesn't like it one bit. Not least because her mother's death was ordered by Venus—who is now her boss.

When Venus asks Ava to kill a family friend, Ava rebels. She knows very well that you can't say no to the Coterie and expect to get away with it, though, so she and her friends hit the road, trying desperately to think of a way out of the mess they find themselves in. Preferably keeping the murder to a minimum.
The Story:
Firebug started off a tad rough for me because there was a lot of info dumping. I felt like every other paragraph was dumping more past experience or information on me and it really pulled me out of the story. I was relieved that the further I read the less this occurred and I really began to get invested in the story and characters.
That being said, the pacing was always fairly fast and I felt like the story progressed at a nice speed. I loved the idea behind the magical mafia–very reminiscent of Holly Black's Curse Workers series. It seems fairly easy to imagine that if there were people with special skills/powers they would be recruited for illegal pursuits so I'm always happy to see this angle in books.
The writing style took some time for me to get used to because McBride had a unique voice in her writing by bringing in humor. At first I wasn't really feeling that it was a successful approach but soon I was loving it. Firebug was my first of McBride's novels so anyone that has read her other books is probably already used to her writing style so this won't be a difficulty for them.
The Characters:
McBride's characters were the real strength in Firebug for me. I loved their interactions and dialog and I was able to connect with the main character, Ava. I felt that she was a great lead character because of her strength but also because she made realistic mistakes. I'm always pleased when characters are able to still feel real though they have an ability.
Her two best friends, Ezra and Lock, really added to the story and loved the threesome's dynamic. I could actually see why they were friends and as close as they were. It's a pet peeve for me when characters are said to be the best of friends but I see zero evidence of it in their dialog. McBride easily made these three seem like a team and I really enjoyed them.
There was a touch of romance in this story but don't get worried about a love triangle since Ava's two best friends are male. I was a bit nervous going into this because that would be an obvious path for some books to go in. Not so here. I will say that the way this book ended it has the potential to drag out the romance in the next novel and if not handled well might verge on annoying for me. But, I'm optimistic it'll work out and be done well.
The villain, the leader of the Cotorie-Venus, was done fairly well. She wasn't overly developed but I did have a sense of her and her power. I felt that she was appropriately evil and was a good driving force for our characters.
Final Thoughts:
Firebug was a fast, fun read that had some really wonderful characters. I felt that McBride's strength was in the friendships she created as well as a strong lead character in Ava. The beginning lagged some and to get up to speed with the world I felt that there were too many instances of  info dump. Thankfully, this was resolved about a third in–so hang in there!